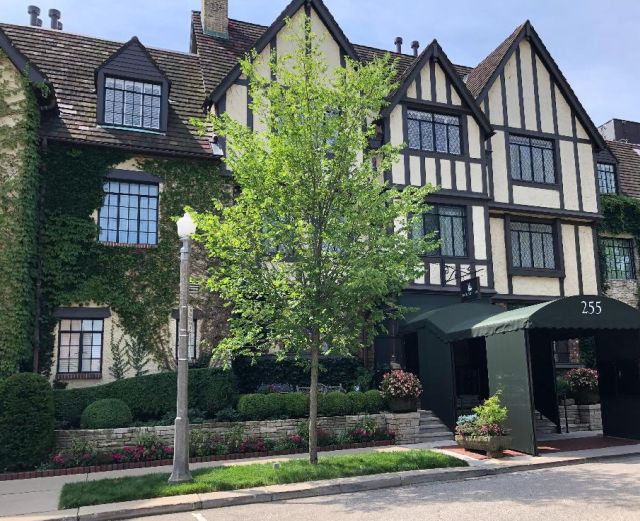 The couch now has a permanent indentation and you're tired of virtual experiences. You have to go somewhere! But where? You don't want to worry about where to stay for a destination that lies two days away.
Consider a nearby resort.
Located within walking distance of Lake Forest, Il's North Line and just a 30-mile drive north of Chicago, is the historic Deer Path Inn.
Travel & Leisure readers just made it the No.1 resort hotel in the Midwest and No. 2 in the United States edging out the Grand Hotel on Mackinac Island, MI. For other winning resort hotels visit the July 2020 issue of T&L.
Built in 1929 near its former 1880's site, Deer Path Inn is a half-timbered, stucco, Tudor-styled taste of Olde England copied from a 1453 Chiddinstone manor house in Kent.
And yes, it has a cozy downstairs pub for a casual dinner. But there is also a wonderful outdoor garden that is great for breakfast or lunch. Its bar is popular with the locals. Seating observes pandemic protocols.
After checking in (masks required) and making meal arrangements, meander north a couple of blocks to the town's historic Market Square. Designed 1915-1916 by architect Howard Van Doren Shaw, it is considered the country's first planned shopping center.
The Inn's restaurants are excellent but if staying a few days you might want to try Francesca Intimo (make a reservation) for a change of cuisine. It is just east across the tiny Bank Lane from the Inn. Their calamari is perfect and they have outdoor seating.
For an after dinner treat or afternoon break, stop in at Sweets for yummy ice cream. Don't forget to get some home-made candy to take home. Sweets is on the Deerpath Street side of Market Square.
BTW, Ravinia Festival in Highland Park has often housed/recommended Deer Path Inn for its performers.
If you go  Deer Path Inn is at 255 E. Illinois Rd., Lake Forest 847-234-2280