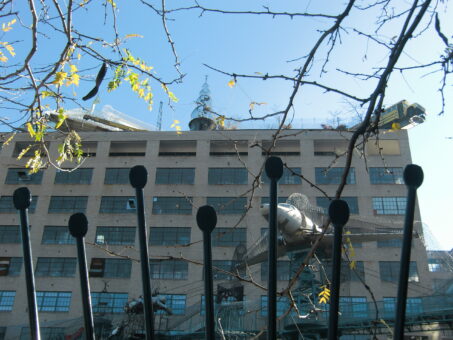 Instead of stopping merely to stretch, think of the stop as a way to make a driving trip extra special. Sometimes we get so caught up in getting there we don't take advantage of the unusual museums actually located along our way or in towns we'll stop at anyway.
Because many towns have multiple sights it's easier to fit in a place that makes it into popular guides. However, doing so may mean losing out on a place you will be excitedly recommending to others. 
The following places are just a few of the unusual stops that a lucky travel writer might have uncovered. (Feel free to add your own recommendations.)
Traveling East-West
The Archway:  If taking I80 across Nebraska, do more then stop to take a photo and go under the picturesque arch crossing above the highway at Kearney.
Opened in 2000, it celebrates the early and modern travelers who went west along the Great Platte River.  See and hear life-like figures tell their stories against stagecoach and wagon backdrops.  There's even a more modern vista of autos and diners.
City Museum:  If taking I70 or any of the other roads that lead to St. Louis, MO, make time to go downtown to explore this weirdly crazy museum. It opened about 25 years ago in an abandoned shoe factory. You will definitely feel like an explorer as you listen to menacing organ sounds while finding unexpected objects and pathways inside, outside on the roof and along different levels including underground.
Traveling North South
If driving the 101 to LA, go downtown to its latest museum, the Academy of Motion Pictures Museum that opened in 2021. it often updates exhibitions so you might catch old movies and costumes one time and might see Star Wars figures the next time.
4.  If taking I 55 down to New Orleans, LA go to the warehouse district for the spectacular National WWII Museum. It has planes and artifacts but it is not about planes. It is a multimedia experience with immersive exhibits and first- person histories. Its "Expressions of America" reveals reflections of the men and women who served. It's new Liberation Pavilion opens early Nov. 2023.