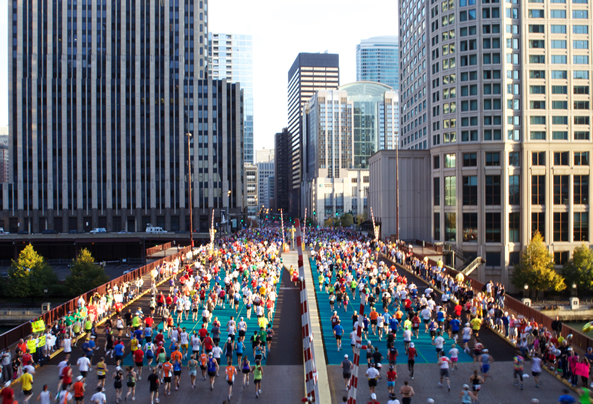 Come to Chicago this weekend to cheer runners on Sunday, Oct. 9, 2022. it's an annual happening.
The official Bank of America Chicago Marathon website describes the event as the 44th running of this marathon. Articles refer to it as the 45th Chicago Marathon.
Well, the current format was OK'd by Mayor Richard J Daley but did start with Michael Bilandic as the city's mayor Sept. 25, 1977 and was called the Mayor Daley Marathon.
That would make it a 45th anniversary in 2022, but COVID interfered. The race was canceled in 2020. So yes, 2022 is the 44th running of the Chicago Marathon as the official website says.
Come but don't drive downtown. Go to a show at the Lyric Opera or a downtown theater while in town but take public transportation.
The field is estimated at 40,000 runners going through 29 Chicago neighborhoods. Roads around the marathon's start and finish at Grant Park have already closed while many more will be blocked later this week and then along the route on Sunday, the day of the marathon.
A basically flat, fast route, its 26.2 miles is considered prime for runners hoping to qualify for such marathons as Boston. It's also known as crowd friendly with good cheering stations.
If you haven't asked a participant where to cheer, go to one already set up. Cheering participants helps them get through the marathon.
The Bank of America Shamrock Shuffle Cheer Zone will be in Lincoln Park at the 8K mark.   Then, the Bank of America Chicago 13.1 Cheer Zone will be half-way through the race. This stop reminds folks there will be a Bank of America Chicago 13.1 on June 4, 2023 through the parks and boulevards of Garfield Park, Humboldt Park and Douglass Park. 
At Mile 15 is a block party to recognize that participants often run for causes. The Charity Block Party will be at Adams and Loomis Streets near Whitney Young High School.
Finally, cheer with noisemakers at the Bank of America Cheer Zone near Michigan Avenue and Roosevelt Road.
The race starts at 7:20 a.m. with many participants finishing more than four hours later and some through at five hours.
Also, watch Sunday at NBC-5 from 7-11 a.m. Live stream is on nbcchicago.com. or listen at WSCR-AM 670 from 6-10 a.m.
For CTA bus 'L' and Metra info visit Navigating the Course.
Find more information at 2022 FAQS Bank of America Chicago Marathon and at Spectator information – Bank of America Chicago Marathon