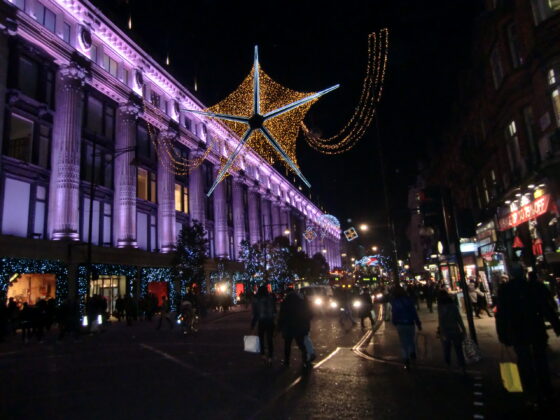 Knightsbridge, Oxford Street, Camden Market, Oh my – It's London for the holidays.
Going to London for the holidays is like venturing to Oz. It's full of magic. Of course, you have to visit old favorites if you have been there before such as the Tate or Tate Modern, Portrait Gallery, Shakespeare's Globe Theater, Tower of London (to visit the jewels) and the British Museum. Or put them on your do list.
However, if London is your December destination, travel your personal "yellow brick road" through the city's shopping districts for their spectacularly decorated windows and sparkling holiday lights crisscrossing the streets above.
The adventure continues at vintage shop after antiques stall, inside department and specialty stores and down the aisles of food, chocolate and toy emporiums.
The question is where to begin? Tip: Forget taxis. Traffic is so bad above ground that the meter runs while you wait through three lights to proceed through an intersection. So, bring comfortable walking shoes, scarves and earmuffs. Pick up a map of the Underground (Tube) stations. Check what is within walking distance of your accommodations and Tube stops. OK, have at it.
Some stores such as Harrods and Fortnum & Mason are likely to already be in your go-to notes but you probably won't want to miss a fabulous toy shop or a terrific boutique so here are some shopping districts and their famed places and features.
Knightsbridge area: You said Harrods, right? Go to the Knightsbridgbe-Brompton Road-Sloane Street District where you can wander Harrods Food Hall, snap Egyptian motifs on the staircases, then, go into Harvey Nichols and Sloan's high-end designers. Be sure to take pictures of the beautifully decorated holiday windows outside the shops. They often tell a story like Cinderella. Tip: You'll see fun "crackers" which are good stocking stuffers if not flying back home but airports started disallowing them after 9-11. If taking the Tube, get off at Knightsbridge.
King's Road: The high-end Chelsea neighborhood at the Sloan Square Tube stop is filled with designer and trendy shops. Include the Duke of York Square to browse.
Even though it has some shops found in the United States it also has fun boutiques, cafes and the Chelsea Antiques Market.
Oxford Street: You'll love the lights overhead if shopping at night and the windows anytime of day. They all definitely set the holiday mood for stopping at Selfridges and Marks & Spencer's flagship store. If you didn't get chocolates at Harrods, look for a Thorton's across from the department stores. It's a chain with really good candy. You can also find the Debenhams Department Store and several good clothing shops on the street. Which Tube stop that accesses Oxford Street depends on what stores you want to visit. The Bond Street station is closest to Selfridges.
Regent Street: Time to eat and play. If you don't mind walking, you can use the Piccadilly Circus Tube stop to pop into Fortnum & Mason and go over to Hamleys and Liberty on Regent Street. Or use Oxford Circus to hit Liberty and Hamley on Regent and then Fortnum & Mason at Piccadilly. Opened in 1707 Fortnum & Mason has served the Royals since Queen Charlotte. You have to go here to admire its atmosphere and pick up something as a gift or to take home. You have to go to Hamleys to find gifts for youngsters or the child in you. Just a few years younger, dating to 1760, Hamleys is among the world's largest toy stores. Liberty, the "newbe" of the three must go to stores, dates to 1875. It's in an elegant Tudor building that perfectly matches its elegant home accessories. But instead of stuffy, the offerings are clever and cutting-edge.
While in the area of the Piccadilly Circus or Bond Street Tubes, walk down Savile Row. Among the places to visit are the Abercrombie & Fitch flagship store,  Or go over to the boutique filled Carnaby Street area. There are other shopping areas but don't ignore London's great Market.
Covent Garden Piazza: You'll find three unique markets here. Look for arts and crafts in the North Hall's Apple Market. TheEast Colonnade Market has jewelry and handmade soap. Products in the Jubilee Market in the South Piazza vary by day from antiques on Monday to general items other weekdays and crafts on the weekend.
Camden Markets: Save time to explore the markets in Camden Town at the Camden Town or Chalk Farm Tube Stations. There's the Camden Lock Market at the canal which was the original craft-stall place in the mid 1970s. The Camden Stables Market has fashions.  Other markets including Inverness Street and Buck Street spread out across the area with clothes and other items. It's a fun place to browse.
Insider Tip: If you want lunch someplace unique that is known to locals, go over to the Café in the Crypt at St. Martin in the Fields Church at Trafalgar Square. 
For more London information see Visit London. 
 For must go to places to shop see Fortnum & Mason ,  Harrods.   Harvey Nichols, Selfridges,Hamleys and Liberty of London.