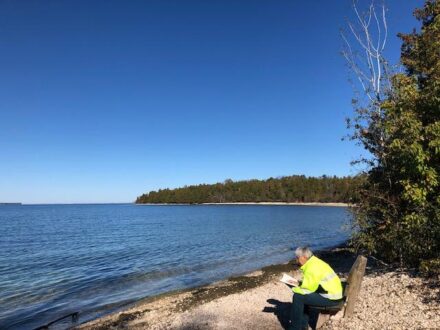 Memorial Day signals summer even if just for the long weekend or for a whole week if school is already out. But that vacation should be in the planning stage now to get the accommodations and restaurants wanted. (Note: If going before Memorial Day check hours. Some shops, galleries, restaurants are only open Thursday through Sunday)
With gas prices looking more and more like highway robbery a one-day drive there may better budget cents.  (Note: If going before Memorial Day check hours. Some shops, galleries, restaurants are only open Thursday through Sunday)
Here are three destinations, each within a different state, that are an easy day's drive from Chicago. They all have historic roots. First is a Wisconsin peninsula that is basically an island with several small villages. Second is a Michigan town paired with two good neighbors. Third is a historic Illinois town near the Mississippi River.
A finger separating the calmer waters of Green Bay from the often more turbulent waves of Lake Michigan, the Wisconsin peninsula home to Door County draws vacationers looking for relaxing seascapes, fine art and pottery galleries, delicious food, trails to bike and hike and lighthouses.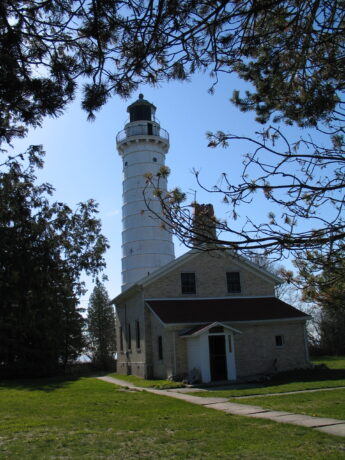 Although The Door, as it is often called, begins halfway up the peninsula south of Brussels for drivers taking Hwy 57, the tourist destination starts further north across a bridge at Sturgeon Bay that is about a four-hour, fifteen-minute drive from Chicago.
Stop before crossing the bridge to get a map, dining and gallery brochures and expert information at the Visitor Center, 1015 Green Bay Road, Sturgeon Bay.
Best plan is to make accommodation reservations before leaving home. Destination Door County/Stay lists inns, B and Bs, cabins, guest houses, motels, resorts and condos.
You might want a place near the center of The Door in Ephraim such as the Eagle Harbor Inn or a place with water views such as Harbor House in Fish Creek or the Yacht Club in Sister Bay or a place known for its good breakfast such as the Church Hill Inn.
Settle in, check the map you now have to see all the towns and crossroads from bay side to lake side and figure what kind of food you want that first night, casual, pizza, fine dining or one of The Door's noted "fish boil." experience.
More than one restaurant does an excellent fish boil. The historic White Gull Inn in Fish Creek is among the most popular. Fish boils are fun to watch but you have to like white fish to eat the dish and not worry about bones (for most of them).
When in the mood for home-made root beer, a hamburger and a picture-worthy sundae, stop at historic Wilson's, a local ice cream parlor in Ephraim.
Door County is fruit country, particularly cherries, so be sure to pick up a cherry pie, chocolate covered cherries and a selection of preserves while there or before you leave. Couple of suggestions: Schartner's Farm Market on Hwy42 south of Egg Harbor and Seaquist Orchards, north on Hwy 42 past Sister Bay have yummy products.
Other items to bring back are a painting and pottery. Door County is home to several artists and artisans. Also, indulge your inner artist at Hands On Art Studio on Peninsula Players Road in Fish Creek. A complex of small buildings, Hands On has the tools, materials and experts to help with ceramics or create a glass, clay, mosaic or jewelry item.
Or stop in any way to see what is there and then go up Peninsula Players Road to Edgewood Orchard Galleries to walk its sculpture trail.
BTW, bringing back food and art is part of a driving trip vacation.
At about 139 miles from Chicago, Saugatuck, its twin town of Douglas and neighboring town of Fennville are an easy two-hour, 14-minute drive north on Interstate 196.
Saugatuck is on the north side of the Kalamazoo River with Douglas across the way on the river's south side.. Fenville is south and slightly east of Douglas. They all have attractive stops when on a driving trip to what is known as Michigan's Art Coast.
Gallery hopping is as much an attraction and pursuit as climbing the area's dunes and dune riding. A popular art stop is the J. Petter Galleries on the Blue coast Hwy in Douglas just before crossing the bridge and turning into Saugatuck.
Artists have been coming here for at least 100 years when the Art Institute of Chicago opened Ox-Bow School. The school still has workshops and classes and the Art Barn in Fennville has drop-in times for anyone interested in creating something.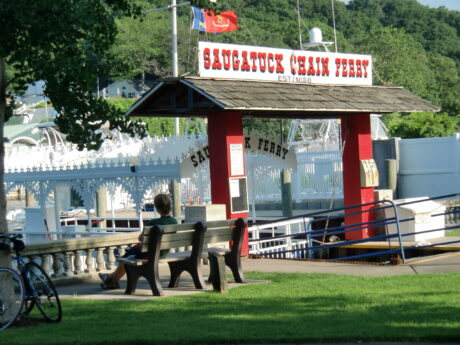 Inns and B and B's on the lake, across from the river and near downtown  Saugatuck offer comfortable rooms, friendly hosts and in many cases, breakfasts.
Walk along the river in Saugatuck but for something different take the Saugatuck Chain Ferry across the river then climb Mt. Baldy dune's 302 steps for great views of the surrounding area.
For a back-in-time break stop in the Saugatuck Drug Store & Soda Fountain for a root beer float.
When not checking out the shops downtown Saugatuck, fit in a visit to the Saugatuck Brewery and browse the Saugatuck Antique Pavilion, both on the Blue Star Hwy in Douglas.
Slightly further out in Fennville take refreshing breaks at the Fenn Valley Vineyards and Virtue Cider, both a few minutes away in Fennville.
Both have products you take home to enjoy while looking over and emailing photos of the Saugatuck area.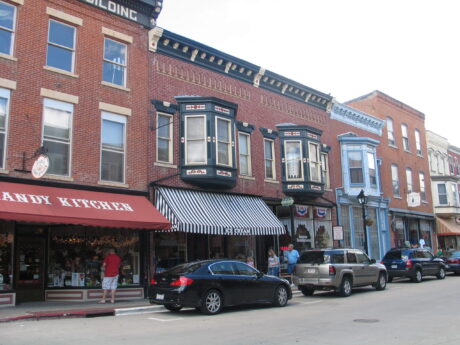 Galena, IL a 19th century former lead mining town and once popular 1850s  political stop for both Abraham Lincoln and Stephen A. Douglas, the town rises on hills above the Mississippi River in northwest Illinois.
The area's fall color is enough to make Galena a seasonal destination but many vacationers come in winter to ski or summer for fun shopping in a historic town. About 800 buildings, comprising 85 percent of the downtown and surrounding area, make up a historic district listed in the National Register of Historic Places.
Among them is the home of Ulysses S. Grant where he was living when he heard he was elected the 18th President of the United States, and the Desota House Hotel where Lincoln spoke in 1856 for John Fremont's bid for the presidency.
Along with Desota House, there are several B and B's. If looking for luxury consider the Select Registry inns of Goldmoor and Jail Hill  (really). For hiking, biking, golf and spa look just outside of Galena's downtown at Eagle Ridge.
After checking in or dropping off overnight bags, start the visit at the Galena Country Visitor Center. Located in a former train depot near the Grant house, it is on the south side of the Galena River across old rail tracks at 101 Bouthiller St.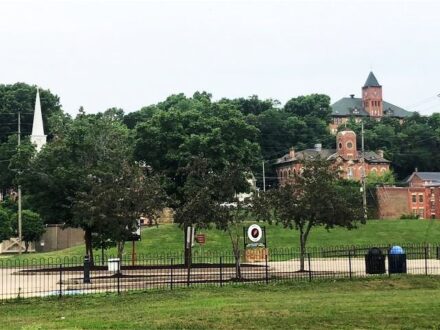 Ask for a map of the downtown and area and get ready to shop and explore..\
Galena has lots of restaurants but the one that needs a reservation more than others is Fried Green Tomatoes. So, make you dining reservation before you arrive in town.
Vising Galena is about walking tits historic downtown and popping into clever, yummy and interesting shops such as Kandy Kitchen, Chocolat ,  Bread & Vine, a patisserie with good macarons, desserts and yummy sandwiches and American Old Fashioned Ice Cream Parlor, the shop many folks crowd into first.
But don't forget to cross the street and head up towards the highway and beginning of the shopping area for a true treasure store called Red's Iron Yard and Wholesale Barn .  Indulge in your inner farmyard, antique shopping persona. After all, driving here means room in the car for collectibles.
One more tip: check the department of transportation website whichever state and trip you choose to find out about construction.
Happy and safe travels!