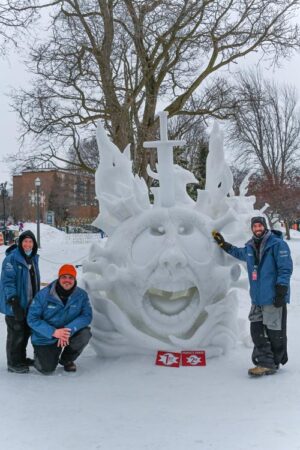 See snow sculptures. Ice skate, Explore an ice village with illuminated caves or a Nordic village with downhill and cross-country skiing. Put Wisconsin and Michigan on the travel excursion list to catch these events and ideas before winter ends.
Ice castle kingdom
Stay at Geneva National Resort and Club's The Ridge in Lake Geneva, WI where guests can now explore an illuminated ice kingdom complete with caves, fountains and frozen slides. Opened Jan. 22, 2022. The Ridge guests get the best available tickets to the ice kingdom, including the difficult-to-get Saturday times.
Call ahead about tickets if driving over to Lake Geneva and not staying at Geneva National. Current expectation is that it will remain open through February depending on the weather. The resort also features ice skating, cross-country skiing and fine dining.
For more information visit Geneva National Ice Castles
Winterfest
Walk around and judge for yourself amazing snow sculptures created by 15 state teams from across the county at the US National Snow Sculpting Championship in Lake Geneva.
Held Wednesday when snow arrives through Saturday for the judging, the annual Snow Sculpting Championship takes place at Riviera Plaza and flat Iron Park during the city's Winterfest, Feb. 2-6, 2022.
Wisconsin Team 2 of Sculptora Borealis won with "Inoculation" last year and Florida's Less Latitutde, more attitude," took second with "the Power of the Mind's Eye."
Winterfest also includes ice sculptures and entertainment. For more information visit Winterfest 2022.
Crystal Mountain
Downhill ski at award-winning Crystal Mountain that controls snow quality with its own machines, has good cross-country trails and an excellent ski school. Located in Thomsonville, MI, Crystal Mountain is a scenic, Nordic style resort village with several accommodation choices, spa and large, indoor pool.
For more information visit Crystal Mountain.