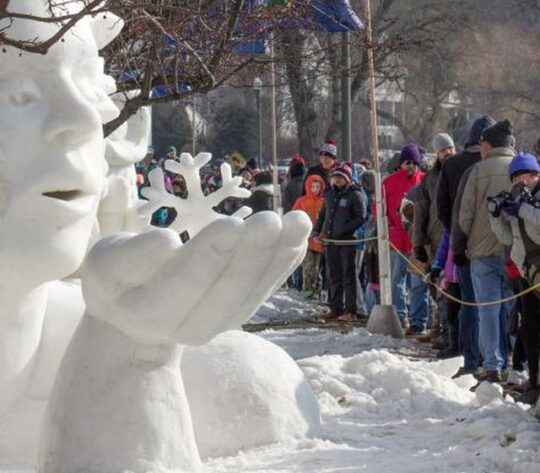 To see some the country's best snow sculptures and vote for your favorite, drive up to Lake Geneva, just over the Illinois border into Wisconsin on Hwy 50, this weekend.
Fifteen award-winning teams from across the United States are competing in the U.S. National Snow Sculpting Championship for the national title, this week.
They start work midweek when snow is delivered to their stations in the Riviera Plaza , 812 Wrigley Drive abutting Geneva Lake (Yes, that is the lake's name).
The teams sculpt their creations through Friday night to be ready for the judging after the "tools down" bell at 11 a.m. Saturday. Visitors can vote for the People's Choice Award, Saturday until 2 p.m.
The snow sculptures are amazing but also stay to see ice sculptures in town. Youngsters may want to stop at a children's tent at 201 Wrigley Dr. in Flat Iron Park where there are games and the Boy Scouts are selling cider donuts and hot dogs.
There are several inns and resorts that turn a Lake Geneva visit into a getaway.
Visitors who stay over Saturday will want to see the free Laser Light Show on the ski slopes of the Grand Geneva Resort, just south of the downtown at WI7036 Grand Geneva Way.
The light show goes from 8:30 to 10 p.m. For more information call (312) 218-3848 or visit Laser fusion shows. The resort is kid friendly and also has a good spa.
For more Winterfest events visit Lake Geneva/Winterfest.