Before becoming engulfed in everything fall from cool nights to school schedules, take a few days for one last summer break. Within four hours of Chicago there are restaurants and resorts with lake-side views, good spas and shopping, plus scenic boating and biking choices.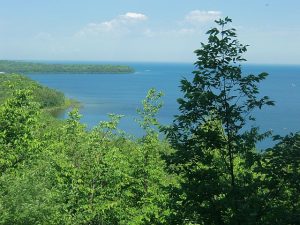 Door County, WI
About 3.5 hours north of Chicago is a finger-like peninsula that sticks so far out into Green Bay on one side and Lake Michigan on the other that there are almost too many scenic views for one trip.
The Door, as visitors and residents call it, begins halfway up in the fleshier part of the finger but the vacation destination begins at the Sturgeon Bay knuckle and continues  up the finger to Gills Rock. Some folks even cross the choppy waters north by ferry to Washington Island, an interesting day trip when time allows.
To make the most of your vacation, first nail down where to stay. The sailing, hiking, biking and the Door's specialties of art gallery hopping and lighthouse touring can wait. But accommodations fill quickly.
Before deciding, you should know that the Lake Michigan side is known as the "quiet side" because the small towns are nestled further apart among the forests. The Green Bay side is dotted with small bustling villages, restaurants, shops and inns.
But it doesn't take long to cross The Door's farmland in between so neither side is a bad choice. Both sides have state parks.
To stay amid the action, look at places on the Bay side from Fish Creek to Ephraim to Sister Bay. For quiet side accommodations, look at Baileys Harbor.
The best way to find lodging is to go to Door County, click Availability or Stay. If still not sure call the bureau at 800-527-3529 because they are very helpful.
"One of our primary things to do is help people find a place to stay," said Communications Director Jon Jarosh.
The web site lists lots of activities but if you want a map and brochures stop at the Visitors Bureau after where WI Highways 57 and 42 connect at 1015 Green Bay Rd. on the south end of Sturgeon Bay.
Galena, IL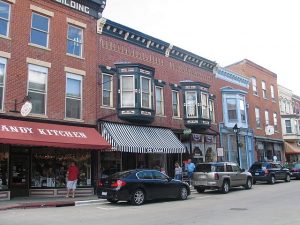 Tucked into the northwest corner of Illinois about three hours from Chicago are the scenic rolling hills of the Galena Territory and the historic town of Galena, home to Ulysses S. Grant with tie-ins to Abraham Lincoln.
Indeed more than 80 percent of Galena has historic district designations.
But a trip here isn't just about going back in time. Situated on the Galena River and near the Mississippi, it's a picturesque river-town edged with steep, photo-op streets.
Shopping its main street is delicious because there are wine-tasting places and yummy ice cream and candy shops.
Nearby, are the stage coach trail, fort and scenic vistas of Galena's Jo Davies County. There is usually balloon or Wine or other festival taking place in the area.
Accommodations here range from charming B&Bs and inns to resorts.
If interested in combining golf, spa treatment or hiking, a good place to stay is the Eagle Ridge Resort on the outskirts of town at  444 Eagle Ridge Drive, Galena and at (800) 892-2269.
If interested in a Labor Day Weekend stay check out its special events and guest rate package.
To learn more about the area and find other lodging choices visit Galena.
Lake Geneva, WI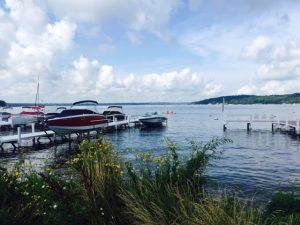 Closer to Chicago is the town and lake where some of the city's elite used to vacation and where some urbanites still have homes and cottages. It's Lake Geneva on Geneva Lake and the small towns nearby.
From Chicago's northern suburbs, the drive is about 1.5 hours but don't try to make it faster than the posted speed limit. Some of the small towns along the route add to their coffers with speeding tickets.
However, Lake Geneva is an easy, fun getaway for folks who like to hike, bike, golf or enjoy water sports.
A great way to hear about the estates around the lake is to take the mail boat which pauses, sort-of, at some piers for postal deliveries.
Because the Lake Geneva area has been a vacation destination since before the turn of the last century, there are lots of lodging choices from contemporary to vintage and from resorts and B&Bs to inns and condos. To fit in golf or a spa treatment, consider the Grand Geneva outside of town.
For accommodation availability visit Lake Geneva and enter your arrival and departure dates.
So, instead of looking at the calendar with dismay that summer is just about gone, fit in a getaway. You deserve it.