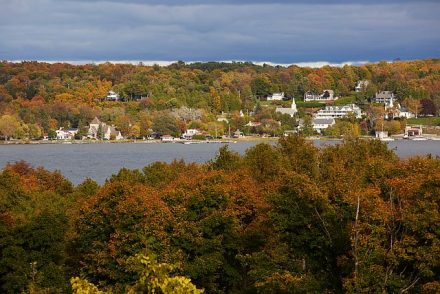 Picture a small town where goats on a restaurant roof can cause a traffic jam in a county where visitors to its scenic towns often gather around huge outdoor pots to watch traditional fish boils.
It is Door County, a peninsula that separates the calm waters of Green Bay from turbulent waves of Lake Michigan and where the must-take-home items are chocolate covered cherries or cherry pies and the must-visit time of year is fall.
An easy drive from Green Bay's airport, the route on the way to the Sturgeon Bay, the first vacation town on the peninsula, is dotted with the crimsons, golds and pinksm of changing leaves. And, as TV ads say, "But wait." The colors keep intensifying, driving northwest along curving roads through picturesque villages.