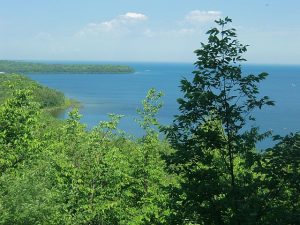 The best part of vacationing in Door County, WI is the way its delightful harbors make you feel you left work and daily stress miles back at the last stoplight.
The county actually begins back a ways on a thumb shaped peninsula that separates Lake Michigan from Green Bay (the body of water, not the city). There are a smattering of stoplights at its southern end.
But once you cross a drawbridge over Sturgeon Bay, a shipping waterway cut across the peninsula to  connect Lake Michigan to Green Bay, you enter a world where a curve in the road reveals yet another scenic view and where villages have a few scattered stop signs, not stop lights.
However, to experience the dangerous waters where Lake Michigan waves bump against those from Green Bay that give the peninsula its name, you should drive north about 40 miles from Sturgeon Bay to Gills Rock and then a short distance to Northport. There you would take a ferry across to Washington Island.
Among the stories floating between the peninsula and the island is a tale of how when one native tribe lured another tribe to cross from Washington Island to the peninsula, those who attempted the crossing died in the stormy waters, thus giving the crossing the name Death's Door.
Safe? Yes, though sometimes the trip can be rocky. But the Washington Island Ferry is so popular the best plan is to check the season's schedule and get to its departure ramp at Northport ahead of time so there is room for your car.
While exploring look for Island Stavkirke, a recreated 12th century Norwegian church and the Jacobsen Museum of island artifacts.
OK, you're here, meaning at the Door County room, condo, guest house or cottage or other lodging you booked ahead of time, and you are already gazing out at the quiet blue expanse of Green Bay or the ever changing colors of Lake Michigan.
Ah, but an hour later comes the stomach rumble, so next is investigate food options. Do ask your accommodation manager because Door County is loaded with good restaurants and diners so choosing one is a matter of what kind of food you're in the mood for and how far you want to go. Continue reading "The Door: A heavenly vacation spot belies its death passage name"