You don't have to drive across country to find gorgeous tangerine and magenta vistas. Four easy-to-get-to Midwestern areas, Galena, IL, Geneva and Door County, WI and Bloomington/Brown County, IN, put on a color show that attract leaf-peepers as September merges into October. Sure there is good color throughout the region but these areas also have fun shops and good accommodation choices. You do need to make your reservation now, however, because they are not a secret. Best plan is to go during the week to avoid the crowds.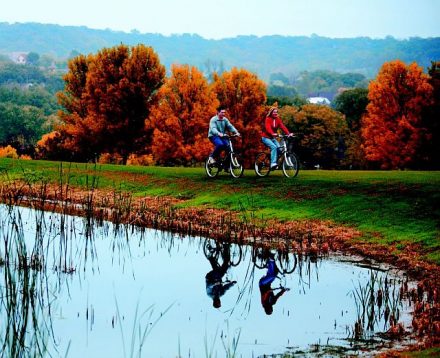 Tucked into the northwest corner of Illinois at the Mississippi River, the town of Galena ripples down hilly streets and scenic roads. About a three hour drive northwest of Chicago, its hilly terrain is vastly different from Illinois' Lake Michigan and prairie landscape. Leave time to  explore the Galena Territory where every road turn and over every hill there is another photo op and color-filled vista.
Shopping the town's main street is delicious because there are wine-tasting places and yummy ice cream and candy shops. Check with your accommodations host for restaurants that have your favorite cuisine.
There are lots of good B&Bs in town and even a historic hotel. Or if looking for expansive color vistas consider Eagle Ridge Resort and Spa. Only 6 minutes from the village's downtown in the Galena Territory, it has lots of room choices so is perfect for a family or girls getaway. Eagle Ridge also has horseback riding, hiking and biking trails and balloon tours.
Nearby, are a stage coach trail, fort and the scenic vistas of Galena's Jo Davies County. There is usually a balloon, wine or other festival taking place in the area so with all the outdoor recreation and activities around you probably won't need a book to fill slack time.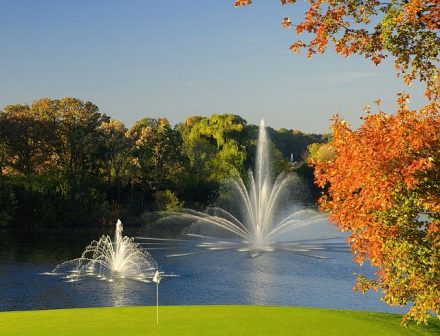 Do like Chicago's upper crust used to do. Drive up to Lake Geneva across the Illinois border into Wisconsin. The town is still filled with estates but also has B&Bs and resorts. About 1 ½ hours north of Chicago, Lake Geneva has been a vacation destination since the 1800s.
Visitors can hear about the estates that border Geneva Lake. The lake here is called Geneva Lake but the town reverses that by calling itself Lake Geneva. Take a boat ride that also delivers the mail pier-side or an evening sunset cruise to hear about the estates or celebrate fall with a glass of wine.  The boat excursions are a good way to see some of the grand houses and resorts around the lake away from Lake Geneva. Motor boat rentals are also available.
To get away from the crowd after cruising shops and the lake and to see even more good color vistas, check the Grand Geneva for dinner or accommodations. It is just outside of town and the spa is a destination by itself.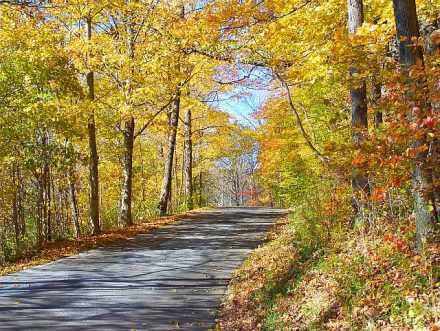 About four hours north of Chicago, the fun and scenic vacation destination of Door County is on a peninsula that pokes like a finger into the waters east of  the City of Green Bay. One side of The Door edges the watery way called Green Bay. The other side is lapped by the waves of Lake Michigan.
Bring a bike or rent one. Even though there are no traffic lights once past Sturgeon Bay where a canal allows boat traffic to cross, the car and pedestrian traffic of fall-color aficionados make moving from cute town to quaint town and good shops and restaurants to harbors and forest roads a bit slow on the Green Bay side. Driving the forests on the Lake Michigan side or crossing the peninsula between farms and fields is easier and just as colorful.
Bike or hike Peninsula State Park on Green Bay between Fish Creek and Ephraim. Go camera or smart phone ready to snap a ton of photos to download to Facebook or Instagram. To  try whitefish done the Door County way reserve a spot at a restaurant's fish boil. Tip: check for the annual fall color festival then try to go the week before or after it for better chance at accommodations and restaurant reservations.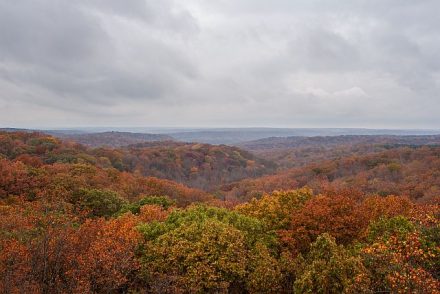 About three hours south of Chicago, Brown County's boutique and arts-filled Nashville (no not TN) and Brown County State Park have arguably been a prime peeper destination long before other regional areas publicized their fall colors.
Possibly, it was because in neighboring Bloomington, which adds golds and oranges to its usual red and white colors, Indiana University students and their parents knew about Brown County's fall transformation. But you don't have to go to a football game here or take a class to become immersed in the area's amazing fall kaleidoscope of color.
A good selection of accommodations can be found in Bloomington and Nashville. Tip: Look up IU's football schedule so you don't go that weekend. Better yet, go during the week anyway.
Jodie Jacobs