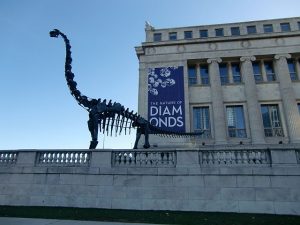 The kids are saying yea, no school for a week. But what's a parent to do when there is more to plan for than a weekend outing?
From a tomb and T Rex to penguins and planets, the Museum Campus has lots to keep families fascinated for an entire day.
Penguin antics also make visitors chuckle at Lincoln Park Zoo.
Lego is a hit at the Museum of Science and Industry and at the Legoland Discovery Center in west suburban Schaumburg.
The Centennial Wheel and musical play equipment are awesome at Navy Pier. Check them out and enjoy.
Explore Chicago's Museum Campus
Youngsters don't all like the same things but on Chicago's Museum Campus at the south east end of the downtown, you can probably satisfy two different interests if you plan carefully.
Children fascinated by mummies, dinosaurs and native American tribal life will love the  Field Museum while adults will likely want to detour over to its gem exhibit.
Anyone who likes penguins or  pretty much anything live that moves through water will want to stop at the Shedd Aquarium across from The Field.
Budding astronomers and space explorer wannabes will want to go to the Adler Planetarium that's further down the museum campus' arm.
Families might be able to take in some of two places but really shouldn't try to do all three museums on the same day.
Tip: While on the museum campus walk past the aquarium towards the planetarium .then turn around and look at the city. This is where journalists take photos of the skyline and TV broadcasters go for a super camera op of Chicago's skyline. Your photo will look like you are out in a boat on Lake Michigan because you are on a peninsula.
Put on your minor's hat or thinking cap at the Museum of Science and Industry
The Museum of Science and Industry south of downtown should satisfy all interests from its coal mine experience, Lego exhibit  and futuristic thinking room to Colleen Moore's Fairy Castle, the Great Train Story's model railroads and the Mirror Maze.
Tip: On April 8 and 9 and April 15, you can also see special Robotics week events.
You play at Navy Pier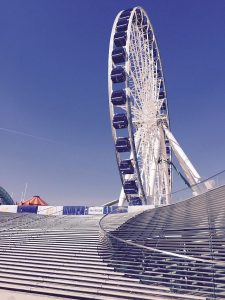 Navy Pier, a 3,300 foot long entertainment pier jutting into Lake Michigan from Illinois Street east of the Mag Mile is home to the Chicago Children's Museum,  a Ferris-type ride called the Centennial Wheel that is almost 200 feet high and ethnic festivals in its Crystal Garden.
Tip: There is also an IMAX Theater so check out its film schedule. Plus do 'Impulse: An Interactive Art Exhibit,'  in the Polk Bros Park at Navy Pier, now through May 21. It's a light and sound experience where visitors can try out seesaws and other play equipment that produce different tones and colors when activated.
Watch animals play at the zoo
Stroll through Lincoln Park Zoo to see two new, polar opposite,  animal habitats: South African penguins in their cozy cove (It's not icy) and Arctic polar bears in a coldly comfortable place.
Tip: The zoo and its Lincoln Park environment are fun places to spend a day so plan on eating at Park Place Café which has Mexican, Italian dishes and burgers or if warm enough, the roof top Café at Wild Things above the Wild Things gift store. .
Discover what can be done with Legos
From things to ride, play with and see in 4D to Star Wars episodes to experience, there is an entire Lego world at the Legoland Discovery Center in Schaumburg,  Entry and experiences are ticketed so plan ahead because tickets are timed to prevent overcrowding, particularly during winter and spring vacation breaks.
Tip: Online tickets save money so check it out at Tickets.