"Faith and Begorrah," it seems everyone is already in an Irish mood.
Restaurants, grocery stores and neighborhoods are taking the phrase "Go Green" seriously now through St. Patrick's Day March 17.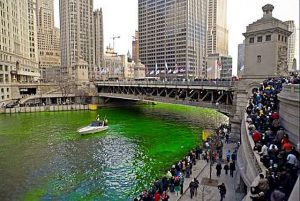 Here are just a few of the places in and around Chicago where you might hear céad míle fáilte (a hundred thousand welcomes) and Irish music, see Irish dancers and feel you ought to be wearing something green.
The Suburbs
Walk into any Hackney's, a 76-year-old family run restaurant and pub this week to see how leprechauns expressed the family's Irish roots and pride. The menu has lots of choices including the famed Hackney Burger but during the weeks leading up to St. Pat's Day you might want to go for the corned beef, straight up or in a Reuben.
For Irish music with your grocery shopping check out the Sunset Foods stores in the northern suburbs.  Irish dancers will be at Sunset's five store on March 5. They will be in Libertyville at 10:30 a.m., Lake Forest at 11:45 a.m., Highland Park at 1 p.m., Northbrook at 2 p.m. and Long Grove at 3 p.m.
Chicago
The city has several St. Patrick's Day parades but your first stops should be on Saturday, March 11, 2017.
Greening the River
The Chicago River at Michigan Avenue and Wacker Driver will be turned green when  vegetable dye is poured in at 9 a.m.
Downtown Parade
The city's St. Patrick's Day Parade has bagpipers, bands, dancers and dignitaries step off at noon from Grant Park at Columbus Drive between Balbo and Monroe Drives.
Irish Festival
Lots of folks go over to the Irish American Heritage Center at 4626 N. Knox Ave. after the parade for an all afternoon-evening party. Tickets: $12-$15 adults; free for children 12 & under. The festival continues on Sunday.
Neighborhood Parades on March 12
South Side Irish Parade http://www.southsideirishparade.org/
Time is noon from Western Avenue between 103rd St. & 115th St.
Northwest Side Irish Parade
Time is noon from Onahan School at 6634 W. Raven St.