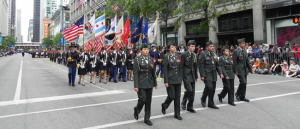 Say Memorial Day to some folks and the response is it's the time to commemorate people who died while in military service. To others it signifies the beginning of summer vacation.
On some town's websites are parades, ceremonies and even a history note explaining that Memorial Day was originally Decoration Day and started shortly after the Civil War.
On others, it begins the period from the end of May through Labor Day when beaches are open, lifeguards are on duty, several outdoor fests and tourist activities take place and bus routes are added.
Five suggested Memorial Day Weekend activities in the Chicago area range from fireworks and festivals to a parade and party plus there's a bus route bonus.
Parade
The City of Chicago is holding a Wreath Laying ceremony in Daley Plaza at Dearborn and Washington Streets at 11 a.m. Saturday, May 27, 2017.  It will be followed by a parade that starts at noon from nearby State and Lake Streets and travels south on State to Van Buren Street. The Grand Marshal is Marine Corps Commanding General Robert S. Walsh. The parade, among the country's largest, includes veterans' groups, marching bands and antique military vehicles. Visit Chicago for more info. The national Memorial Day remembrance is 3 p.m. Monday, May 29, 2017.   For an excellent government-based web-site with history and other info visit Government.
Parties
Chicago House Party – DJs and performers take over Millennium Park,'s Jay Pritzker Pavilion and North Chase Promenade Tent May 27, 2017, from 2 to 9 p.m. Expect a variety of "house music" a style started in Chicago that is danced to throughout the country. The grassy areas are good for picnics or dancing. For performer schedules check City of Chicago. Millennium Park is at Randolph through Monroe Parkways along Michigan Avenue.
ROOF on theWit, a fun space with great cocktails and views of the city is starting its JETSET s series May 26-27, 2017. The party transports  guests to Barcelona, Spain  minus the airline hassle. ROOF on theWit is 27 stories above the Wit Hotel at 201 N. State St. at Lake Street, Chicago. For reservations visit Roof. JetSet weekends start at 2pm.  For more information and reservations, visit Roof or call  (312) 239-9502.
Festivals
The Belmont-Sheffield Music Fest runs from noon to 10 p.m. May 27 and May 28, 2017. A street party that has been going on for more than 20 years, the fest attracts excellent bands, good food, beer and wine booths and also features arts and crafts. A $5 entry donation benefits the Lakeview East Chamber of Commerce. Entry is at 3200 N. Sheffield, Chicago. Vist Chicago Events for more information.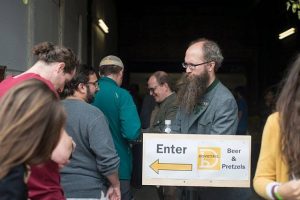 Celebrate "Mayfestiversary," a block party at and around Dovetail Brewery, 1800 W. Belle Plaine Rd. Dovetail is celebrating its first anniversary with Begyle Brewing which is marking the second  anniversary of its taproom. There will be food trucks,  live music and games. B elle Plaine Avenue will be closed from Ravensood to the CTA line. Part of proceeds benefit Foundations of Music.The festival goes from 11 a.m. to 10 p.m. May 27 and 28, 2017. For more information visit at Dovetail or call (773) 683-1414.
Fireworks
Navy Pier is always good for a holiday outing but the Chicago attraction restarts its summer fireworks display Saturday, May 27 at 10:15 p.m. Among the ways to celebrate the weekend is to cruise on the Spirit of Chicago or Odyssey or stop in at the Miller Lite Beer Garden to hear Hot Rocks do Rolling Stones tributes from 2 to 11:30 p.m. BTW the Rolling Stones Exhibitionism upstairs at Navy Pier is worth seeing.  Navy Pier is at 600 E. Grand Ave. , Chicago, IL 800 )595-PIER (7437) For more information visit Navy Pier or call (800) 595-PIER (7437).
Bonus
The CTA's No 10 Bus that goes to the Museum of Science and Industry starts again Memorial Day weekend. That means it will be easier to get there from downtown Chicago to see the terrific Robots  exhibit.