If still looking for something to do in the Chicago area this weekend here are some suggestions, beginning Friday.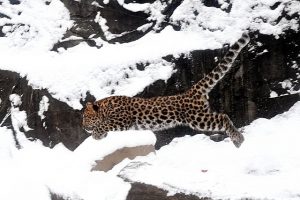 Brookfield Zoo
Walk among more than a million twinkling lights, listen to a tall talking tree, watch ice carvers, ooh doing the Polar Light Show and ah during the magic show and sing to reindeer in Wild Encounters or bears in the Great Bear Wilderness at what is formally called the Chicago Zoological Society or what most Chicago folks call Brookfield Zoo.
The zoo is celebrating Holiday Magic this weekend, Dec. 17-18 from 10 a.m. through 9 p.m. but the lights, shows and other fun stuff don't really begin until 4 p.m. The zoo is at 3300 Golf Road, Brookfield, IL 60513. For ticket and other information visit BZoo.
CTA Holiday and Elves Workshop Trains and the Holiday Bus
You can tell when the holiday trains are pulling into an L station because of all their colored lights. Oh, yes, you'll also see Santa in his sleigh on a flatcar with his reindeer and holiday trees. The Elves Workshop train should be following shortly for those who didn't make the Holiday Train. Inside, the trains are decorated for the holidays and equipped with candy canes to hand out.
On Dec. 17 The CTA Holiday Train will operate on the Red Line between 12:15 and 9 p.m. (two trips either direction, and the Purple Line from about 4:15 and 6 :16 p.m. Visit Holiday Train schedule.
The Holiday Bus will be traveling the No. 62 Archer route Dec. 16 going south from Kinzie and State at 1:15 p.m. and Dec. 17 going north at 12:25 p.m. from the Midway Orange Line to Kinzie and State See CTA holiday bus. You know it's the holiday bus because "Ralphie the Reindeer" leads the way with his glowing, ruby-red nose.  Once inside, you see Santa and art from Wacker Elementary and Santa. Find more information at Holiday Bus.
Juicebox Series Human Tim+Robot Tim
Bring your toddler to the Chicago Cultural Center Dec. 16 or the Garfield Park Conservatory Dec. 17 to watch Human tim and his robot friend make music. Both places are 11 to 11:45 a.m. The Cultural center is at 78 E. Washington St. downtown and the Conservatory is on the west side of Chicago at 300 N. Central Avenue. Both places are reached by CTA trains.. Visit Juicebox .