Imagine a short ride up the street from your state's capital to dead end at a gigantic, year-round block of ice. As Alaska's capital, Juneau is worth a visit, but if you have never walked or been bussed on the Columbia Ice Fields in Alberta Canada, then do so on the Juneau Icefield.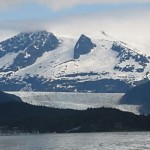 You can take a "flightseeing" tour of the Icefield that includes landing on it and a lesson in how to hike the ice and information on what you are seeing. You can also get a close-up look of arguably Juneau's most familiar name: the Mendenhall Glacier. To do a flightseeing tour arrange ahead of time with TEMSCO, a veteran Alaskan flight company.
We have walked the Columbia Ice Fields so our choice was to see Mendenhall through our ship's tour but arrange for whale watching on our own.
Because we arrived before the main tourist season we were able to walk up to a hut on the pier and book the next boat out from Orca Enterprises with Capt. Larry. Not only did he know where to go to find pods of whales, he also knew the islands and channels where we could see eagles and other wildlife. Plus, the boat was small so we could get up close and were not part of a large group.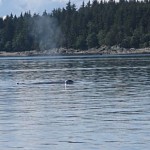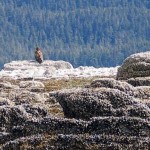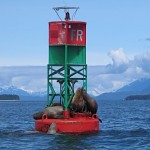 As beautiful as we heard Alaska was, we still were not prepared for so many awesome sights. And we hadn't yet seen Glacier Bay National Park
For more info
TravelJuneau
whalewatching
TEMSCO flightseeing
Coming Next: Glacier Bay National Park