When the bustle of holiday preparations start to weigh on brain and shoulders, seek smiles and joyous countenances from angels. More than 12,000 of them are lifting visitors' spirits at a small museum just over the Illinois border in Beloit, Wisconsin.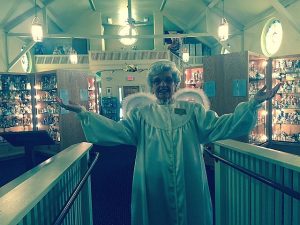 They are porcelain, ceramic, glass, metal and wood and nearly 100 other materials. They range from about 1/8 of an inch to life-sized and from candle holders, vases and chubby, cuddly, doll-type cherubs to artistic figures, ink wells, pins and a WWI medal. And they were crafted by artists in more than 60 countries.
Their home is the former Catholic Church of St. Paul building slated for demolition until Beloit residents, the city and angel collectors Joyce and Lowell Berg stepped in. Or as Joyce says, "Angels saved the church."
Opened in May 1998, the museum's collection dates back to the Berg's falling in love with the Italian bisque figures of two angels on a seesaw during a 1976 Florida vacation.
"We stopped at an antique store. We weren't looking for angels. But that Christmas when we got out our decorations we realized we had other angels. The next year on a trip we bought more angels. It became a passion," said Berg during a recent museum tour (Lowell has since died but is remembered with a special angel exhibit in one of the cases).
Collecting, however, comes with a couple of problems. The collection grew too large for the Berg home. In addition, people who heard about the angels wanted to stop in to see them. The church building was a perfect solution to both issues.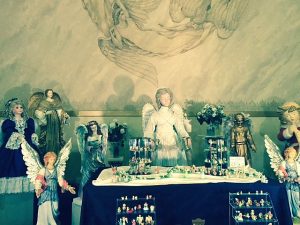 Since then, the collection has grown to more than 14,000, a number that is too large to show at one time. "So, I rotate them," Berg said.
What is amazing is that she has only one duplicate angel. "It's mind boggling how artists have come up with so many different angels. Their little faces just make you feel good," she said.
The museum also contains Oprah Winfrey's collection of 600 black angels. A passing comment on Winfrey's show about not seeing black angels resulted in hundreds of black angels sent to the celebrity.
When Winfrey said how much she loved them but didn't have room for them all, she was told about the museum in Beloit. It now houses her donated collection.
As to most of her angels residing in a museum instead of her home, on the museum website, Berg said, "I want to see a place where goodness prevails and I can share my angels with the masses."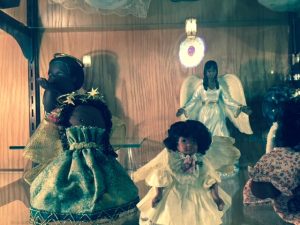 The museum also sells angel artifacts in its Heavenly Treasures Gift Shoppe. Hours Thursday-Sat. 10 a.m.-4 p.m.The museum will be closed Dec. 22 to March except for special events or tours.
The Angel Museum is at 656 Pleasant St. at Hwy 51, Beloit, WI 53511. It is about a 1 hour, 30 minute drive from Chicago. For other information visit Angel Museum and call (608) 362-9099 or (877)-412-6435.