Look up. If your sky is clear tonight and before dawn the next few nights you might see a shooting star. Except it won't be a star it will be a meteorite. Now is when two meteor showers are putting on a show.
Delta Aquarid is going on now. It is not a major meteorite display but it overlaps the beginning of the Perseid shower.
The Perseids peak mid-August with about 100 meteorites per hour seen about Aug. 11-12 in 2016. Delta peaks this weekend with about 20 meteorites per hour.
Perseids seem to come from the Perseus constellation, thus their name. Actually they are debris from the Swift-Tuttle comet. Look for them in the northeastern sky of the northern hemisphere.
A good site to hear about Perseus is at NASA Science News even though the broadcast is from 2014 and includes that year's august Super Moon, it is fun to watch and hear. NASA.gov also has more meteorite showers and info.
Tips: The best way to watch for meteorites is to find a spot away from city lights such as the banks of a lake or in a field or park. Early morning before dawn is usually just as good as late night. Be patient and bring a chair or blanket.
There are lots of travel items out there now that make life easier, safer, more fun or are just useful to have so I'm going to start including them in Travel Smart With Jodie if it passes the Try Test.
First up that just got high grades on my taste to go Try Test are freeze dried fruits from Fairfield, NJ's Crispy Green.
I'm not always into healthy snacks but I like chips. So when passing bags of fruit chips at my grocery store ( I shop at Sunset Foods in Lake Forest), I picked up a bag of Crispy Green freeze dried banana chips. I found out that I could also have gotten them at The Fresh Market, Heinens or on Amazon.
Well, I like fruit but I don't take a banana with me in the car or my tote bag.
Then I checked the calorie count. It was so low I picked up a few of the brand's other fruits. For example I'm not a cantaloupe or tangerine eater and can't do acidic fruits but I like banana, mango , apple and pear.
I loved that I could take them with me whether on a train downtown Chicago to cover a museum or theater opening or on the road or plane for a travel writing trip. Also I liked that there are different fruits so it doesn't get boring.
Just put banana in my Le Sac travel bag, cause heading down to Chicago to cover to art exhibits.
Imagine watching an orange glow back-lighting thousand of cranes as the sun rises on the Nebraska's Central Platte River.
With more daylight you realize that what looked like merely like sandbar and small, flat, isle protrusions really were clusters of sleeping Sandhill Cranes. You start capturing the scene with camera and smart phone sans flash so you don't disturb the birds.
A few cranes fly off to corn fields on either side of the river. Then, without warning that you can catch, they all rise and fill the sky with black silhouettes and loud cries.
The scene is your reward for leaving your warm bed before 5 a.m. so that you can get to the National Audubon Society's Rowe Sanctuary in Gibbon in time to walk to a blind before sunrise.
It is now March 21 when the Sandhill Crane migration is at its peak on the Platte so space at the Rowe Sanctuary's blinds had to be reserved a couple of months ahead. The cranes stop here on their way from Mexico, Texas and New Mexico to Alaska because the river offers them protection from predatory land animals and the food supply will help them bulk up for the long flight to Alaska and northern Canada.
To take advantage of being here you return to the blind before sunset, ready to capture the next decent of cranes who will nestle down there for the night. Against the gorgeous red sunset the scene looks like a painting.
Volunteers have come here from as far as California and as close as Lincoln, NE to help as guides. And you do need help to follow the Rowe Sanctuary's paths in the early morning darkness and post sunset night.
Rowe Sanctuary is near Kearney, a delightful town with plenty of places to stay, see and sup. BTW, if interested in volunteering, contact Rowe.
Audubon's Rowe Sanctuary is a great place to learn about bird migrations through what is known as the Central Flyway.
Next morning is crane migration repeat. But this time the visit to a blind is at the Crane Trust Nature & Visitor Center in Wood River near Grand Island. Blinds and information at both Rowe and the Crane Trust are good. Grand Island is also a good stopping point for lodging and sights.
More about what to do during the day at each area comes next in Nebraska sights and stops when traveling Interstate 80. Photos by Jodie Jacobs (c)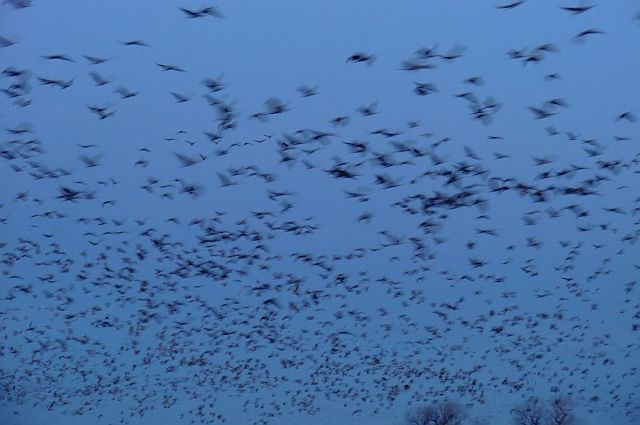 Take a snow day to get away from political campaigns and shrug off Super Bowl 50 hype.
Lake Geneva, WI annual hosts the US Snow Sculpting Competition the first week in February. Teams from across the country that already won their local championships are now competing for national recognition.
And it doesn't matter what Mother Nature has in store. Snow blocks are made at the Grand Geneva Resort because it needs the machines for its ski slopes.
The blocks are dropped off in the park near the Riviera on Geneva Lake (no typo, the lake really is a reverse of the town name).
Teams start carving their snow blocks this week to be ready for the judging this Saturday, Feb. 6, 2016. There are professional judges but visitors also get to vote for the "People's Choice Award."
You really have to see the snow sculptures to believe how incredible they look and the skill it takes to make them.
But snow sculpting isn't all that is happening at this vacation town this weekend. The competition is part of Winterfest which includes helicopter rides, ice skating on a nearby lake, skiing and a slew of other activities at the Grand Geneva Resort plus open houses at several stores and galleries in town.
Parking is free for the week but there also is a shuttle bus from the nearby Home Depot.
Lake Geneva is a charming town about an hour's drive northwest of Chicago just over the Wisconsin border. However, there is enough to see and do to it make it an overnight getaway. Check Visit Lake Geneva for accommodations and full list of activities.