I love all parts of Tennessee but if you only have time for a color drive through one section you won't go wrong choosing the Great Smoky Mountains National Park.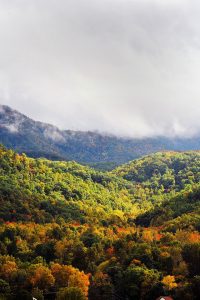 BTW if you see bear cubs, pull to the side to take photos because "bear jams" instead of ordinary fall color "peeps" make it hard for people merely driving through the park from Nashville to get to Ashevill, NC.
Put Sugarlands Visitors Center (above Gatlinburg) into your GPS to start the color drive. It's a short drive south of Gatlinburg on US 441.
Ask there about road closures. You should be able to continue up to Clingman's Dome for an amazing view and a fun picture op
At 5,048 feet you can stand with one foot in Tennessee and the other in North Carolina. The Tower is closed but the parking lot which also has great views is open.
After going back down to Gatlinburg, drive the eight-mile Great Smoky Arts & Crafts Community loop on Glades and Buckhorn Roads.
The art in the studios complement the park's natural wonders.
You are likely to return home with great photos and probably a well-turned bowl or gorgeous painting.
For more information call (865) 436-1200 or visit the park headquarters at 107 Park Headquarters Road Gatlinburg, TN 37738.