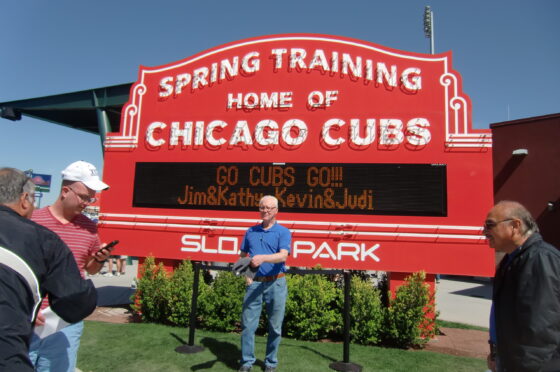 if seeking something beyond sitting by a pool for a balmy weather getaway in late February and most of March consider watching your fav baseball team warming up in Arizona or Florida.
Game tickets are less expensive, you can see teams play in their spring home and, particularly in AZ where the parks are a mere 40 minutes away, play against rival teams nearby.
In addition, players are good about autographs and the atmosphere is fun and casual. 
First the Cactus League. Well, actually, first is getting past Super Bowl LVII which is played Feb. 12 at the State Farm Stadium in Glendale, AZ. 
 Go to Visit Phoenix/Things to do where you can scroll down to a map titled "Explore Greater Phoenix." You can find the town where your team plays and tap on it for places to stay, restaurants and what to do.
As an example, when clicking on Mesa, which is in greater Phoenix' s Southeast Valley, you see it has the Cub's spring training base of Sloan Park. BTW the Cubs begin at Sloan Park in Mesa, AZ begins Feb  25 against the San Francisco Giants.
Mesa is also is home to Hohokum, the Oakland Athletics Stadium, several art galleries and such fun restaurants as Worth Takeaway and Jalapeño Bucks (known for its brisket).
By tapping Glendale, an area northwest of downtown Phoenix, you find Camelback Ranch, the spring home of the Chicago White Sox and the LA Dodgers.
Glendale has historic Main Street, an area of turn-of-century homes and lots of restaurants.   Visit Cactus League at Camelback Ranch for good ideas on where to stay and what to do.
Which brings us to when and where to go: the Spring Training teams and schedule. MLB has 15 teams that play in the Cactus League from Feb. 24 to March 28, 2023.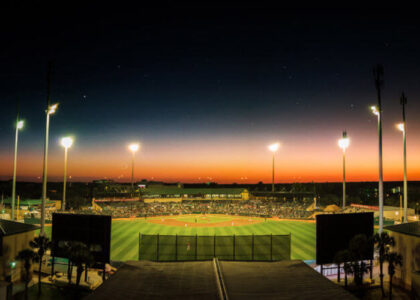 Now for Florida and the Grapefruit League. Here you find such teams in the Palm Beach area as the Miami Marlins and the St. Louis Cardinals who play at the Roger Dean Chevrolet Stadium on Jupiter Island.
And just as Sloan Park is Wrigleyville West, the Boston Red Sox play at Fenway South in JetBlue Park on Fenway South Drive in Fort Myers. 
For more places and teams in the Grapefruit League see Grapefruit League Map | Spring Training | MLB.com
*Warning: When looking for info and tickets for your team the websites that appear are primarily resale and other sites. Be safe by going to an official MLB site for tickets. Type in your team and MLB.com.
As an example, White Sox fans can find info at Official Information | Chicago White Sox (mlb.com) and the schedule at Chicago White Sox Schedule | Chicago White Sox (mlb.com) or at Official Chicago White Sox Website | MLB.com
So, plan now to get away from gray skies and freezing temps.