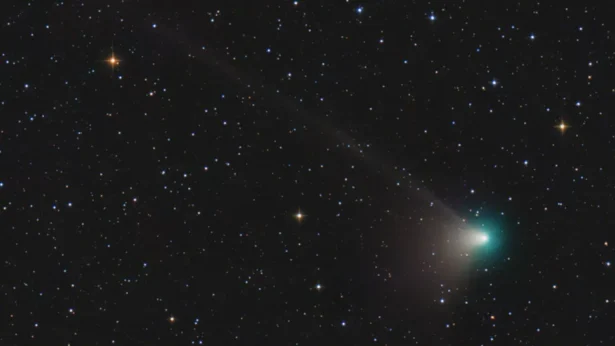 Binoculars will help but will not be necessary Feb. 1-2 in the northern hemisphere if tracking CometC/2022.
 The green comet, technically known as C/2022 E3 (ZTF), has been in the news for more than a week. But to watch for it look up or grab the binoculars. It will be closest to Earth Feb. 1 and 2.
Or go online to watch with the Virtual Telescope Project or visit YouTube.
The Virtual Telescope Project will livestream the comet's presence on Feb. 1, 2023 beginning at 10 p.m. CT and continue Feb. 2. 
Discovered a year ago March inside the orbit of Jupiter by astronomers Frank Masci and Bryce Bolin, the comet has not been visible from Earth in 50 years
Masci and Bolin were using the Zwicky Transient Facility at Caltech's Palomar Observatory in the Cleveland National Forest on Palomar Mountain. (North San Diego County), CA,
Space, a popular sky information site that has been tracking the comet via Skywatch, recommends looking north after sunset for the comet's glowing green tail.  
Another time to watch is when the comet will be near Mars on Feb. 10. So even though it's not at its perigee (closest to Earth) it likely can be found.
A good place to get more information and see photos is Space, a popular sky information site.