You might expect a place that has exotic species to have interesting creatures you want to see, but dragons and dinosaurs?
Brookfield Zoo, Chicago Zoological Society's extraordinary suburban compound of more than 3,000 animals west of Chicago, opened "Dinos & Dragons" May 6 and will continue the exhibit through Sept. 17, 2017.
You start what turns out to be an excursion into dragon mythology, literature and reality in a tent where a live Komodo Dragon peers curiously back at you and a dragon (make that lizard) caretaker walks around holding maybe a Frilled Dragon from Australia or another lizard that doesn't mind being touched.
The tented area is divided into themes – Medieval, Asian and Paleontology (study of prehistoric times using fossils).
"We're connecting science and myth," said André Copeland, Chicago Zoological Society's Interpretive Programs Manager.
Visitors are first greeted by a fierce-looking dragon on top of a medieval, castle that holds a glassed space for one of the live dragon-named creature.
There are several more live specimens but near the tent exit is a large, Chinese structure with another live "dragon".
"In European myths, knights slay dragons. In Asia, the dragon is a symbol of virtue," said Copeland.
He suggested visitors note differences in the mythical creatures often lumped together as dragons by counting their limbs.
"A wyvern is a biped and is popular in Europe. A dragon has four limbs," he said.
Youngsters will want to stop at the paleontology area to brush aside material covering fossils and a peek cutout for a photo.
The wonderful props, lizards and learning stations are a traveling exhibit provided by Louisville, KY based Build 4 Impact.
"People can see the real live dragons of today," said Copeland.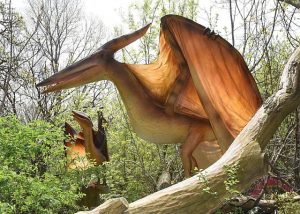 Next, as you leave from a back exit you might hear a roar. But you're not afraid of dinosaurs and dragons that lived eons ago, right?
Instead of playing a game of Thrones, the signs suggest a game of Bones. One station asks "Are You Smarter than A Paleontologist?
Now, be ready for photos or a selfie in front of an Ankylosaur Gryphon, the Late Jurassic period's Stegosaurus and Apatosaurus or the Late Cretaceous period's T- Rex.
Stop at the Dinosaur Dissection Lab near the exhibitand  then go over to the outdoor  Stage-osaurus Theater west of Tropic World (weather permitting).
It's a fun, informative exhibit, and yes, there are Harry Potter book references.
Details: Brookfield Zoo is at 8400 31st Street, Brookfield, Illinois. For information call (708) 688-8000 and visit CZS