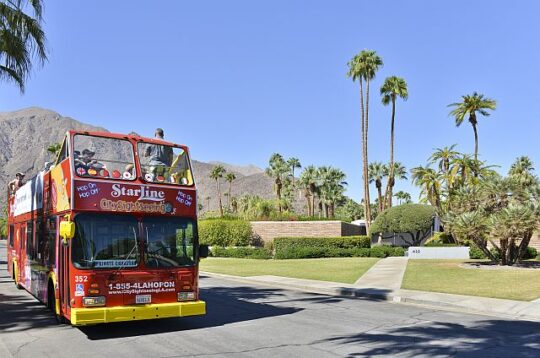 Just knowing that the Winter Solstice is Dec. 21 with only nine hours and nine minutes of daylight is enough to shiver the bones, not counting predictions of single digit temps. 
 Cheer up by planning a warm weather trip. 
Visit the Phoenix area
Go in time for Superbowl LVII Feb. 12, 2023. It's at the State Farm Stadium in Glendale, AZ, home to the Arizona Cardinals. The Phoenix area, particularly Glendale and Scottsdale, are filled with more good restaurants than can be visited in one trip. 
Visit the Palm Springs/Palm Desert area
Go in time for Modernism Week Feb.  16-26, 2023 to see where the stars lived between takes in Hollywood. This is an annual event that attracts hundreds of mid-last-century architecture and furniture aficionados from the US and Canada.
For a quick, warm weather fix right
Watch a bowl game on TV the Jan. 2. Most traditional New Year's Day Bowl games will be Monday, Jan. 2 because they don't play on Sunday.
Toast your favorite team in the 109th Rose Bowl in Pasadena when Utah plays Penn State, but also catch the 134th Rose Parade earlier. It's great what can be done on floats with nature's bounty.Started in 1902 with Stanford taking on Michigan, it's the "Granddaddy" of bowl games. They don't hold it on Sunday, so it will be Jan. 2. Rose Parade Guide | Visit Pasadena
Or watch the Citrus Bowl when Purdue plays LSU at the Camping world Stadium in Orlando, FL
Or see the Reliaquest Bowl for the University of Illinois vs Mississippi State at the Raymond James Stadium in Tampa, Fl.
Or the Cotton Bowl when USC vs. Tulane.at the AT&T Stadium in Arlington, TX.
Stay Warm