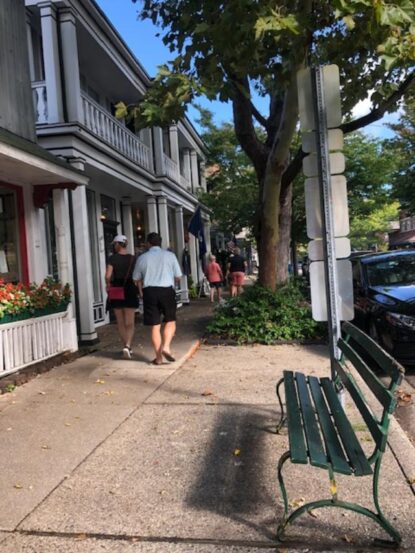 Autumn officially began Sept. 22, 2022, in the Northern Hemisphere.  Which is a good excuse to take to the road. You get warm days and cool nights so leaves are changing color.
If looking for high color, try to go the second week of October. But if looking for a relaxing getaway with good art galleries, good food, good wine and fun shops, consider the Saugatuck/Douglas, and by extension, the Fennvillee/orchard/winery area.
A popular summer and fall destination, the towns are on the State of Michigan's vacation/harbor/dunes coast about 130 plus miles if going east and then north from Chicago around  Lake Michigan.
Douglas is basically on the south side of the Kalamazoo Rive and Saugatuck lies on the river's north side, closer to the area's dunes. Fennville is a short distance south and east.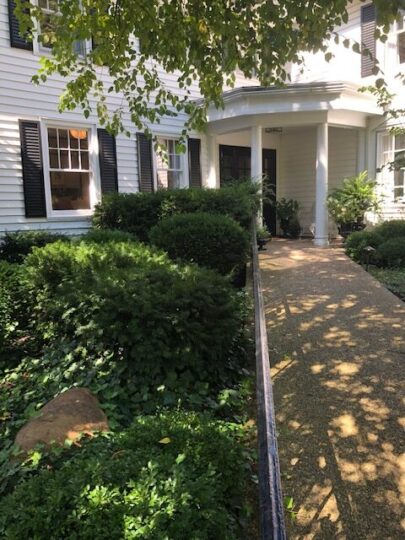 Where to stay
Saugatuck has several B and Bs and inns. We stayed at the Wickwood Inn which actually is a B 'n' B. It is within easy walking distance of the downtown, serves wine and light appetizers in its bar/library late afternoons, sweets all the time next to the kitchen and breakfast nook and breakfast options every morning in the dining room.
The 1937, colonial-style home of former Saugatuck Mayor Frank Wicks, the house was bought by the Louis family in 1981 and turned into an inn. It became famous for its breakfasts when neighbors, Bill Miller and Silver Palate Cookbook co-author Julee Rosso bought it about ten years later.
In 2021 it was sold to Shea Soucie and Martin Horner, partners of the Chicago-based Soucie Horner Ltd, a luxury design company who added their stamp to the house with new décor and furnishings.
Possibly because of COVID, the breakfast we had was no longer a buffet. Choices served at your table in the dining room included but were not limited to eggs done your way, smoked salmon, good bread for toast and excellent jam.
The rooms had received a luxury make-over with really comfortable bedding, good showers and relaxing color tones. 
We liked that the house became our late afternoon refuge from sightseeing. Its garden porch was perfect for reading and its parlor with fireplace had comfortable sitting for chatting and relaxing.
When we rang the bell, Jeff West, our Wickwood, host for the weekend, said our room would be ready early and we could park in the Inn's lot before checking in. Parking is challenging in downtown Saugatuck, so we were happy to leave our car at the inn. Note, a guest card must be in the car window.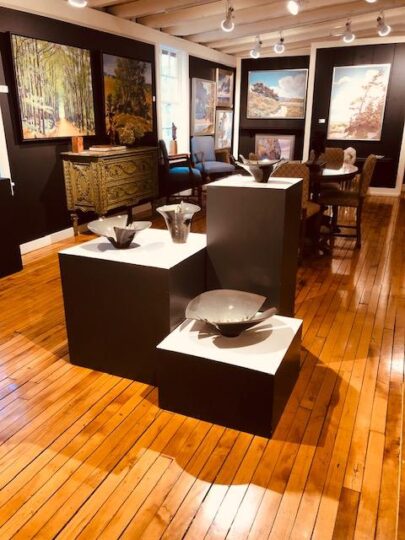 Galleries
Because check-in wasn't until 4 p.m. ET and we were still operating on CT we stopped at J. Petter Galleries, a large, meandering two-level structure on the Blue Coast Highway. It's in Douglas just before the bridge and the turn into Saugatuck.
J Petter Galleries is a fine art gallery in the classical definition. Going there is like spending time at an art museum where you don't hurry.
Operating the gallery since 2013, Julianne Petter has been building a wine section and wine-tasting bar that deserves a visit along with the art exhibit rooms. Juli, as she's known, referred to the appreciation of fine wine on our recent visit as "the art of wine." 
To connect its artists to its wines, the gallery is running a label design contest for a "Beaujolais nouveau" style of wine developed for them here in the United States.
 Water Street Gallery, our next stop, is a short drive south on the Blue Coast Hwy from Petter's in downtown Douglas. Water Street is much smaller than Petter's but still nice. It has interesting sculptures outside in front and down a few steps in back that is accessible around the street corner through its driveway. 
Button Art Gallery, our third stop, is across the street and down a block from Water Street Gallery. Button is a fun place with creative pieces inside and in the garden outside. 
Saugatuck is known as Michigan's Art Coast going back to when the Art Institute of Chicago set up classes there as the Ox-Bow School of Art in 1910. Ox-Bow School of Art still exists, offering credited and non-credited classes.
 Artists still live and vacation in the area. Plus, there are individual artist galleries and studios downtown Saugatuck. The three galleries mentioned here that are in Douglas carry several artists' work and were open when we visited on a Sunday and Monday (leaving Tuesday morning).  Best is to check their hours and days open.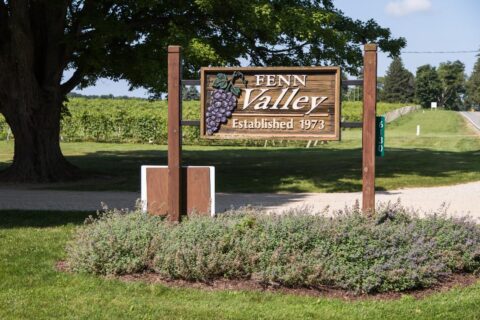 Wineries
We saved visits to wineries located in Fennville for our second day so as not to rush tastings and exploration of the area.
The oldest is Fenn Valley Vineyards developed, owned and operated by the Welsch family since 1973. Its site was specifically chosen in an area that has been good for orchards. 
Located five miles from Lake Michigan, Fenn Valley is a 240-acre farm on top of a large sand ridge between the Black River and the Kalamazoo River valleys that benefits from Lake Michigan's temperature moderating conditions and a well-drained soil.
Everyone's taste is different. I prefer full bodied, dry reds but everything tried during our wine tasting was very drinkable and good for serving guests. My faves were the Classic Chardonnay fermented in French oak and the Meritage, a blend of Cabernet Franc, Cabernet Sauvignon and Merlot. To learn more about these wines see Fenn Valley Wines. 
The wines served to us at Wickwood were from Fenn Vally.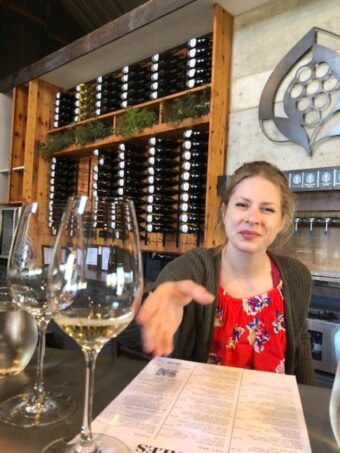 Newish in the valley is Modales. Formed in 2016, Modales consists of two farms, a 75-acre farm at the winery about 3.5 miles from Lake Michigan that had been a stone fruit farm and a 37-acre farm closer to the lake.
Until more of the vines planted are ready for harvest, Bree noted they have bought grapes from the Leelanau region of Michigan (which I found in the past to have become some remarkable wines) and then process them according to Modales tastes and standards.
I liked the 2018 Lamastus Red which was a blend and full-bodied. I also tasted a wine from grapes just harvested in 2022 on the property that was young but showed considerable promise.
Good wine is worth waiting for so I expect Modales to become better known as it develops its specialties and plants more vines. Though young, the winery is worth a visit and then a return in a few years to taste again.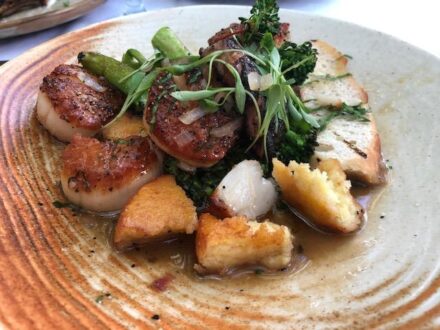 Where to Dine
Coast 236, a downtown Saugatuck restaurant and bar, is known for its wine flights, cocktails and recognition in Wine Spectator. But it also has excellent cuisine.
Many of the diners were doing the day's featured multi-course dinner with matching wines. However, since we had just spent the day tasting wines I chose a main-course option of New Bedford Diver Scallops with Foie Gras from Labelle Farms. They were accompanied by citrus semolina gnocchi and broccolini. The sauce was a sauternes beurre blanc. Wow!
I often use scallops as a restaurant test and these passed with an A plus. They were perfectly prepared and the dish was so loaded with flavor that I used the toast we ordered to accompany our meal as a way to sop up the sauce.
My dinner companion wasn't hungry so chose the tapas-sized dish of New Zealand Lamb Lollipops.
Note: Chef Rick Bower and the restaurant have been recognized by the James Beard Foundation for commitment to sustainable seafood sourcing.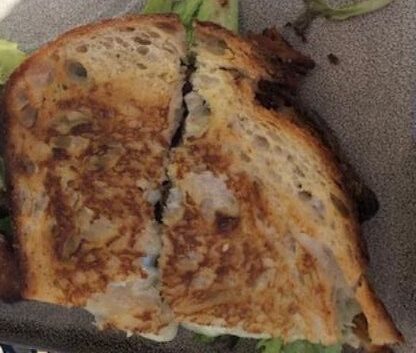 Pennyroyal Café & Provisions is a small dine-in and take-out spot on the Blue Coast Highway in Saugatuck. Sitting inside is not about atmosphere but about getting a table. The outdoor patio is nice but the wait is long. However, Pennyroyal is so innovative and the food so delicious that people are willing to be crowded inside or put up with the long wait outdoors.
Part of the problem is that Condé Nast Traveler has more than once noted that Pennyroyal was a restaurant destination. Also, Executive Chef Melissa Corey had worked for James Beard award-winning chefs and she won when appearing on Food Network's "Chopped."  
We chose to try the restaurant for lunch because it was a Monday and closed about 3 p.m. that day. The all-day menu was different from the dinner one.
Even though we came what we thought was after the busy brunch crowd, yes, we had to wait for a table outside for about 45 minutes.
Imagine a BLT that includes delicious Gruyere cheese, Nueske's bacon from Wisconsin and San Francisco-style sourdough bread from a Grand Rapids, MI baking company that was nicely grilled.
Definitely gourmet, what came was a cross between a BLT and a grilled cheese sandwich. Reading about Nueske's, a long-time family business, is a clue to how important the chef considers individual ingredients.  Yum. It was worth the wait. 
There are no reservations for lunch but reservations can be made for dinner. So, if in the area, try to get a dinner reservation.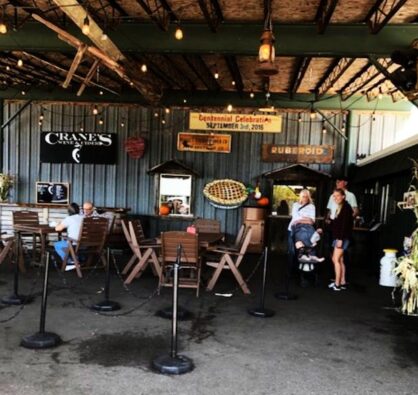 Shopping 
The Saugatuck/Douglas/Fennville area has good breweries and antiques which will give you more places to taste, look or wander but if time is short you might want to put these three stops on your itinerary.
Crane's, a triple threat of bakery, restaurant and small-batch winery, sits among the fields and vineyards of Fennville. This is the place to pick up a pumpkin or fruit pie. We brought home one of the best pumpkin pies and cinnamon sugar dusted, apple-cider donuts we've ever tasted.
We did not stay for lunch because we were going to Pennyroyal and we didn't try the wines so if in the area, go for them and add them to your list or add a comment on this website.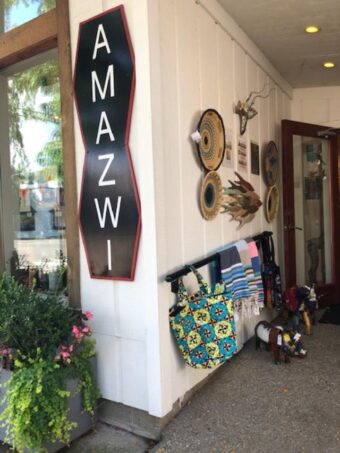 Mazwi is across the street from Coast 236. Its owners travel to Africa to import items for their Saugatuck shop. My problem is limiting purchases to gifts for family because there are so many interesting and artistic items.
Kilwins, a chocolate and ice cream shop on Butler St, downtown Saugatuck can be found in other fun, Midwest travel destinations but that doesn't make it less of a shopping stop when chocolate ior a caramel-coated apple is on the mind.
We did Crane's with the wineries but went there to pick up a pie to take home. As to shopping, we finally got around to checking out the shops after lunch and picking up fudge to take from Kilwins. The fun of travel destinations is to pace stops so the break really is a vacation and not something that needs downtime for recovery.
 Enjoy!