All of June is Pride Month in Chicago. But the day that out-of-towners in the LGBTQ community will for sure want to visit is June 25, 2017 when the city's annual Gay & Lesbian Pride Parade meanders south on Broadway carrying, wearing and waving colors of the rainbow.
Among the largest of such parades in the U.S., its marchers, dancers and floats step off at noon from Montrose Avenue. They then go south on Broadway to Halsted Street and then continue to Diversey Avenue and  on to Cannon Drive.
Choose Chicago has a list of hotels and other deals on its website but here are a couple of suggestions.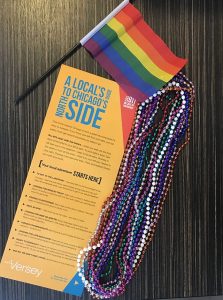 Stop at the newly opened Hotel Versey, a boutique hostelry at 644 W. Diversey Parkway, on the parade route in the Lincoln Park-Lakeview area. The hotel will have complimentary flags, beads, stickers at a "Flair for All" booth from 10 a.m. to 3 p.m.
If looking for a place to stay, check out The Talbott Hotel's discounted rate packages that include a "Pride Festival Survival Kit" with a rainbow backpack filled with water bottles, sunscreen and protein bars.
The Chicago Pride package is available over dates surrounding Pride Week, the Pride Parade, and Market Days Festivals (June 19 – July 7 and August 6 – August 18). For more information or to make a reservation, please visit here. Check availability at Talbott Pride.
The Talbott is at 20 E. Delaware St. in the Gold Coast neighborhood south of the parade route and adjacent to near North Michigan Avenue's Magnificent (shopping) Mile. Visit Talbott for hotel information.
For more Chicago Pride Parade info visit Chicago Pride.