Maybe it was the time of year we went to Alaska – late may to early June, but we were lucky enough to see Denali, "the high one" as it is known in the native Athabascan language, four days straight.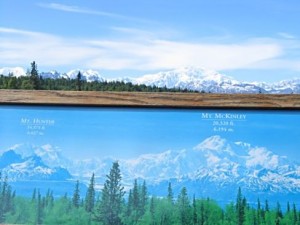 Denali, which most people know as Mt. McKinley, is 20,320 feet above sea level. At that height, tallest in North America, it could be excused if it did have its head in the clouds.
To put it in some perspective, the world's highest mountain above sea level, Mt. Everest in the Himalayas, is 29,029. Kilimanjaro, the summit of Africa, is 19,334 ft.
But even if we had not seen the mountain in its sun reflecting glory, just taking a bus tour of Denali National Park would have made the trip to the park worthwhile.
First designated as Mt. McKinely National Park in 1917, the park is a haven for Dall sheep, moose, grizzlies, caribou, birds and plants. Aside from the park life, Mt. Mckinley is part of the 600 mile long Alaska Range which provides plenty of backdrop scenery.
We stayed in two lodges, the first one just outside Denali National Park and the second one inside the park. Both were owned by Princess.
We left the area at Talkeetna to board a train to Anchorage and our return flight home. But Talkeetna is more than a railroad stop. The town, about 100 miles from Denali National Park's entrance, is home to the Talkeetna Ranger Station. Everyone who plans to climb Mt. McKinley must check in at the ranger station for a permit and orientation.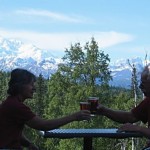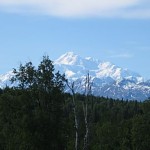 Tips
If in Talkeetna, go to the ranger station on B Street even if not mountain climbing. Pinpoints on a map on the wall show where current climbers are. When we stopped in there were several expeditions on their way up or down the mountain judging by all the pinpoints. Rangers at the station are happy to talk about climbing or visiting the park. The town is also a fun place to browse shops and stop for refreshment.
Check out Alaska Railroad as a way to tour the state.
Now it's all aboard for our trip home.
Coming Next: Travel tips to take some of the hassle out of summer driving trips
All photos (c) toJodie Jacobs (JJ)