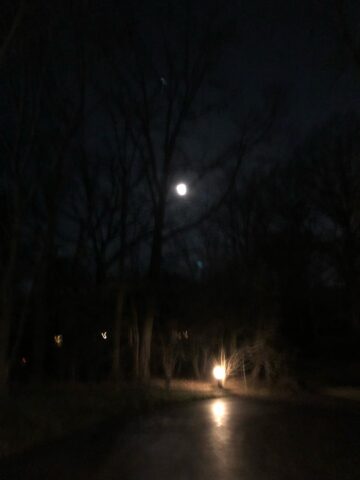 If you love snapping photos of a full moon, particularly a supermoon, you'll love this summer season of 2023.
There's not just one supermoon. There will be four of them lighting up the sky between July 1 and Sept. 28. Yes, there will be what is called a "blue moon."
As NASA's Solar System Exploration site explains (NASA capitalizes Earth and Moon when referring to specific planetary orbs), "a supermoon occurs when a full moon coincides with the Moon's closest approach to Earth in its elliptical orbit, a point known as perigee."
That point is less than 226,000 miles from earth so its closeness means the moon will look larger than usual. It's called a 'supermoon' if within 90 percent of perigee.
Different scientific organizations and sites use different calculations. The word "supermoon" as known today was first used by astrologer Richard Nolle in 1979. 
The EarthSky website uses supermoon dates and times determined by astronomer Fred Espenak, who worked at the Goddard Space Flight Center. Espenak takes in account changes in the moon's orbit per lunar cycle.
Earth/Sky uses the Astropixels table for the upcoming supermoons:
July 2-3: 224,895 miles (361,934 km), Aug 1: 222,158 miles (357,530 km), Aug 30-31: 222,043 miles (357,344 km), Sept 28-29: 224,658 miles (361,552 km).
As you look at the different distances you see that the second August supermoon is the closest. And you understand that with two full moons in the same month we're talking about "once in a blue moon" meaning the rarity of two full moons in the same month.
That second full moon now marks the start of a cycle where the moon is full later in a month as opposed to the early monthly dates we saw so far in 2023.
As to how much larger it looks visit What is a Supermoon? – NASA Solar System Exploration
 July Supermoon
Ready for the July 2023 Supermoon? The Old Farmer's Almanac calls it the Buck Moon because the male deer' antlers are in full growth. The bucks shed and regrow antlers producing a larger set each year.
Other July full moon names reference animal and plant changes such as the Salmon Moon, Ripe Corn and Berry Moon.
 When to get the camera (phone) ready? The July supermoon is at peak illumination at 7:39 a.m. ET. July 3, the but will look full July 2 and July 4 so you may get an interesting photo during your local fireworks celebration. But try to also get a photo without fireworks lighting up the sky.