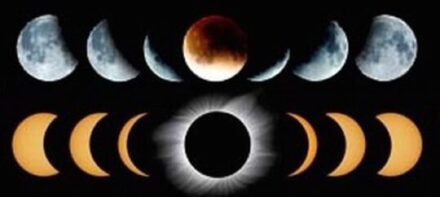 Unless you are in the Southern Hemisphere, particularly the southern part of South America, the afternoon of April 30 you won't be seeing a partial solar eclipse live. But you can watch online and you will be getting updates from news channels.
According to Space.com, you can see this solar event on the YouTube channel of the India-based  Gyaan ki gareebi Live .  It will begin broadcasting the eclipse at  1:45 p.m. EDT (1745 GMT).
Of course you know a solar eclipse happens when the moon's orbit sends the sphere between the sun and earth. You can become more informed on this particular eclipse at Time and Date and at Time and Date's Partial Solar eclipse coverage.
The partial solar eclipse is also the forerunner of a lunar eclipse happening May 15-16 in both hemispheres. Time and Date has a good map and timetable of the area covered.
In the Chicago area watch the lunar eclipse on May 15th from its very early onset at 8:32 p.m. through May 16 at 12:55 a.m. Chicago's Adler Planetarium has a good description of what to expect.
For full moon observers, this is the Flower Moon. and yes, it coincides with the lunar eclipse. For more information visit the Old Farmer's Almanac.
If that isn't enough, May also hosts the peak of the Eta Aquarids. The meteorites peak with up to 50 meteorites per hour May 5-6 in 2022 although they have already started. They are named for their radiant (where they seem to emerge) at the constellation Aquarius.
Happy sky watching!
.