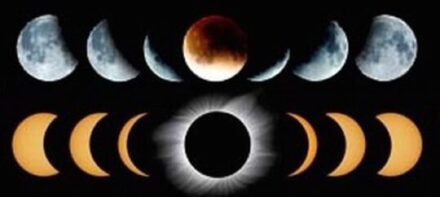 Maybe you think of winter, spring, summer and fall as your year's seasons but astronomers also have at least one other seasonal time frame: Eclipse Season. It is the short period when a lunar eclipse and a solar eclipse happen near each other.
Coming up is a short lunar eclipse on May 26, 2021. Don't blink because you may miss it.
It is called short because totality lasts just a bit more than 14 minutes. According to astronomers, that is the 10th shortest totality for a lunar eclipse between the years 1600 and 2599.
To better understand what will be happening,  know that during the lunar eclipse a full moon will be moving through the Earth's umbral shadow and be fully in that shadow for slightly more than 14 minutes. But the entire movement through the shadow will be about three hours.
The Old Farmer's Almanac explains that the part of the United States where you are watching the eclipse will matter as to totality with west of the Mississippi River better than east.
But as TV commercials say Wait. The eclipse is just part of May's lunar special event. Because the May full moon's orbit takes it closer to Earth than the year's other full moons, it will be 2021's best and brightest Supermoon. During the eclipse, it will appear as a blood moon.
The lunar event is followed by an annular solar eclipse on June 10. That eclipse's partial phases will make it the 5th longest worldwide for an annular solar eclipse that happens in the same season as a total lunar eclipse.
But forget about blinking. Proper glasses or other safety precautions are needed to protect your eyesight.
EarthSky has an excellent summary of Eclipse Season. Also see Time and Date  for information on both the lunar and solar eclipses this year and in the future.