Zithromax generic canada
From going to museums and shows to enjoying neighborhood festivals and awesome public art, there is always something to see and do in Chicago.
Indeed, there is so much to choose from that trying to wade through all the information is akin to almost drowning in a sea of information.
So here are four suggestions for different ages and interests.
Sharks at the Shedd 
It doesn't matter if you missed Discovery Channel's "Shark Week" programs at the end of July, you can visit the sharks and learn about them at the Shedd Aquariam, one of Chicago's most visited museums.
Instead of merely watching Shedd inhabitants swim and cavort, find out more about what you are seeing by chatting with divers and experts during animal chats. They take place at different times each day at the Caribbean Reef with a diver during feeding time, at Wild Reef when an expert answers such question s as why the sharks you'll see don't eat their fish companions, and at the Oceanarium where there are beluga and sea lions animal chats. There is also a daily expert answering questions about penguins in the Polar Play Zone
However, there is also a 60 minute shark feeding tour experience at the Wild Reef that is fascinating. Because it is a behind the scenes tour it needs planning ahead of time and special tickets. For that info visit Sharks. For animal chats visit Shedd.
Musical Madagascar
Imagine DreamWorks 2005 film coming alive on stage.  With award winning director/choreographer Rachel Rockwell at the helm, the Chicago Shakespeare Theatre's version of the characters is jazzy enough and cool enough to keep youngsters and adults clapping and moving for 70 short minutes. It's certainly family friendly but adults don't have to find a child to come and enjoy a show about New York's Central Park Zoo residents escaping to an island country.
'Madagascar is at the Chicago Shakespeare Theatre on Navy Pier, 800 Grand Avenue, Chicago, now through Aug. 27, 2017. For tickets and other information visit ChicagoShakes.
Andersonville Eats
Andersonville, known as home to the Swedish American Museum and ethnic restaurants, is holding its annual Dinner Crawl Aug. 9. However, if not able to make the event check out the website to put together your own taste of Andersonville.
Typcialy attracting 600 foodies, the event offers three choices: Golden Fork, Silver Spoon  and The Works routes and menus. The Crawl starts at 4 p.m. at the Swedish American Museum, 5211 N. Clark St. For tickets and a list of restaurants and stops visit Andersonville.
A Picasso Celebration of Public Art

For people who remember when that 50-foot tall, odd-looking sculpture was set up on Daley Plaza 50 years ago, it might seem like yesterday that Pablo Picasso designed an extraordinary sculpture for Chicago. People who keep an eye on the statue to see what sport celebration may be crowning it or hanging around its neck, the sculpture has come to signify city pride. And it's universally recognized. So what to do when its 50th anniversary  rolls around?
Well, in Chicago the anniversary will be celebrated with a re-staging of its unveiling, music performances and a few speeches beginning at noon, Aug. 8.
But if unable to make the storied event, this summer is a good chance to  appreciate the city's year-long celebration: "20017 Year of Public Art."  The Chicago Public Art Collection, managed by the Department of Cultural Affairs and Special Events, contains more than 500 art works scattered throughout the city.
From Anish Kapoor's "Cloud Gate (The Bean) and Jaume Plense's Crown Fountain in Millennium Park to Jean Dubuffet's  "Monument with Standing Beast" at the State of Illinois Building  and Alexander Calder's "Flamingo" a the Federal Center Plaza, there are enough sculptures  to walk around just downtown for an entire day. For a guide to the art works visit DCASE.
Buy zithromax online
Chicago has a good bus system and taxis are within waving distance. But the "city that works" is also the city that walks. This is a five part series of walks to see art, architecture, theater, go shopping and try different restaurants for different times of day. Even better than doing one walk, is to combine a few destinations for a full, fun, vacation day in the city.
First in the series: ART
It is nearly impossible to be downtown Chicago without seeing a sculpture on a corner, tucked into a plaza and defining a park. And that is just outside public art. Peer through the glass of office buildings to see their lobby sculptures.
Inside or out, they are on or near east-west streets that when followed come within a couple of blocks of the Art Institute of Chicago at Michigan Avenue.
You really need a whole day to do the Art Institute of Chicago, a double building that showcases older, traditional art in the main section that fronts Michigan Avenue at Adams Street and contemporary pieces in newer, Modern Wing facing Monroe Drive and Millennium Park.
So let's look at what is within walking distance of the Art Institute. You do have on comfortable shoes, right?
Too often residents and visitors bustle by the art museum's North Stanley McCormick Memorial Garden, sometimes known as the North Garden, at Monroe Drive and Michigan Avenue.
But this is a good place to sit and contemplate, Henry Moore's "Large Interior Form," Alexander Calder's "Flying Dragon" David Smith's "Cubi VII" and Ulrich Ruckriem's "Untitled" sculptures. You can drop references to this almost secret garden when talking about hidden Chicago gems you found.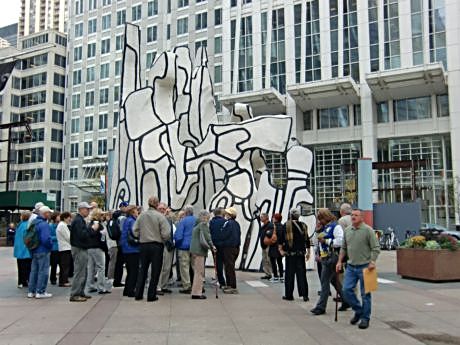 Not so hidden are the pieces across Monroe in Millennium Park. They are definitely worth seeing and snapping with your phone or camera.
Indeed "Cloud Gate," typically called the "Bean," almost rivals "The Picasso" near City Hall in fame. Done by British artist Anish Kapoor, the 110 ton polished stainless steel structure reflects Millennium visitors and Chicago's skyline.
Now, look around and ponder when does an architectural structure get mistaken for a giant sculpture? When it is the billowing steel ribbons atop the Jay Pritzker Pavilion in Millennium Park that was designed by architect Frank Gehry.
Another, larger-than-life Millennium sculpture, is the two-piece, 50 foot high, Crown Fountain designed by Jaume Plensa. Made of glass blocks that face each other with a walk-in catch basin between them, the blocks reflect the faces of hundreds of Chicago residents.
If you want to do a broad arc, you can go west from Millennium Park on Randolph to see Jean Dubuffet's "Monument with Standing Beast" at the State of Illinois' James R. Thompson Center (100 W. Randolph Street).
Then head south a block to Washington Street for "The Picasso" at Daley Plaza. It has that title by default because Pablo Picasso supposedly didn't name it.
Look for Joan Miro's "Chicago" sculpture in concrete, mesh, bronze and tile on the narrow Brunswick Plaza across Washington Street.
Continue south a block to Madison Street to look inside Three First National Plaza (70 W. Madison) at Dearborn Street for Henry Moore's "Large Upright Internal/External Form."
Stay on Dearborn going south to see Marc Chagall's "Four Seasons," a mosaic wall on the chase Tower Plaza.
The next block south is Adams Street where you'll see Calder's bright "Flamingo."
Adams ends east back at the Art Institute. You've made a loop but you might want to walk into Grant Park on the museum's south side to see dozens of other walkers.
Or, from a distance, its appears they are people walking. They make up "Agora," a group of headless, cast iron figures by Polish sculptor Magdalena Abakanowicz. No one will believe you unless you take a picture.
Watch for the Restaurant series for ideas of places to stop while walking downtown Chicago.
Photos (c) by Jodie Jacobs