Given a list of cities and landmarks it's a no brainer to draw a line from Gateway Arch to St. Louis. But how about where to find one of the wackiest museum you are ever likely to encounter? Or how about a cathedral whose interior is covered with 41.5 million pieces of glass? The lines still go to St. Louis, MO, a fun-to-visit town just a short flight from Chicago, a half-day train ride or about a six hour drive.
The Arch
Certainly, if you have never been to St. Louis then definitely visit the city's 630-foot high landmark Arch. It represents the gateway to the West. Don't worry if you don't take a decent photo through its weather-beaten windows at the top, but you will find that riding up there via a tram-car-enclosure is an experience.
Now, the summer or fall of 2018 is a good time to visit the Gateway Arch and its museum about westward expansion at the base. After being closed for the past few years, the museum just reopened July, 3, following a multi-million dollar renovation that also included the grounds. The newly done museum still takes visitors back in time but does so with even more life-sized figures, relics, old building replicas and dioramas of Native Americans, explorers, St. Louis scenes and pioneers. The Gateway Arch and Museum is at 11 N. 4th St., St. Louis, (877) 982-1410.
The strangely named City Museum
The museum's name, sounds ordinary. But as you approach the City Museum you can see from the planes hanging on the outside and the bus dangling over the roof or the Ferris wheel on top of the building that the name doesn't begin to tell its story.
Once the International Shoe Company, the building has been re-purposed the same as the recycled objects inside have been into a Disneyland-style fun house. Supposedly geared primarily to youngsters, it is just as entertainingly enticing to adults.
There are circus acts, tunnels, an aquarium and architectural leftovers. But there is also a 10-story slide and an organ that plays scary "Phantom of the Opera" notes. The City Museum is at 750 N. 16th St., St. Louis,  (314) 231-2489
A St. Louis landmark to appreciate while sipping beer
See more St. Louis landmarks over on the Anheuser-Busch Complex. Three of the 137 structures there, the Administration built as Lyon School in 1868, the Circular Stable (think Clydesdales) dating from 1885 and the Brewhouse built in 1891, are on the National Register of Historic places.
But the sign on the complex says Budweiser so you also know this is a place to tour then finish off the stroll with a tasting in the Biergarten. Even if beer isn't the drink you usually order, it's a good idea to know what all the craft-beer-places are talking about when they discuss their IPA, ales vs. lagers, and beer ingredients. The complex's visitor center is at 12th and Lynch St. For more information visit Budweiser tours (314) 577-2626
A street that loves mid-last century styles
As with Chicago, St. Louis is a city of neighborhoods. But one of those areas, The Loop, has a funky street that will have you thinking you stepped back into the 1950s.
It's Delmar Blvd., a road where a trolley that used to "loop" around, clangs down the center of the street, where the Moonrise Hotel has 1950s furnishings inside and a revolving moon on its roof, where Fitz's serves up wonderful root beer floats and where the Blueberry Hill Restaurant & Music Club celebrates rock 'n' roll legend Chuck Berry with photos, a juke box, collectible paraphernalia and live music.
As if the moon might feel lonely in the Delmar firmament, Jupiter is also on hand. Look for it on the Delmar Planet Walk.
There is also another walk. Its where you can see if you know all the famous people, such as Yogi Berra, Robert Duvall, T.S. Eliot, Marsha Mason, Sara Teasdale  and Tina Turner, who were either born or lived some time in St. Louis. It's the St. Louis Walk of Fame and of course Chuck Berry has a star on the walk.
The Blueberry Hill Restaurant & Music Club is at 6504 Delmar Blvd, St. Louis, (314) 727-4444.
A cathedral that really is a work of art
It's not possible to keep from saying OMG when entering the Cathedral Basilica of Saint Louis, also called the New Cathedral. The inside is a work of art that took from 1912 to 1988 to complete because 41.5 million glass tessarae pieces were installed. Considered the world's largest mosaic collection outside of Russia, it includes the Tiffany designed mosaics on the sanctuary walls and inside chapels and August Oetke-designed mosaics in the main cathedral areas.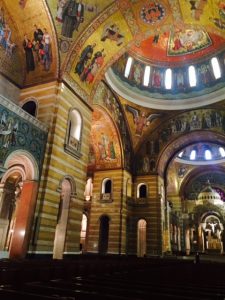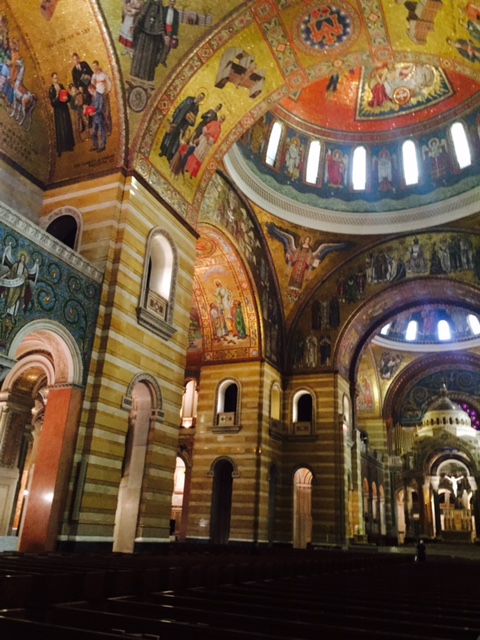 Cathedral Basilica of Saint Louis (New Cathedral) is on Lindell Blvd. at Newstead Ave. St. Louis, MO 63108  (314) 373-8241
For more St. Louis places and information see Explore St. Louis.
Jodie Jacobs
Three Embers at Marriott Lincolnshire Lakeside Plaza
You don't have to be staying at the Marriott Lincolnshire Resort north of Chicago to relax on its recently re-done Lakeside Plaza. You don't even have to call its popular, reservation-only Three Embers Restaurant. Just go over there at sunset to sip a glass of Pluto's Fury Pinot Noir from the Russian River Valley or a house recommended Merlot and nibble on the restaurant's Burrata appetizer around the Plaza's fire pit or at its high-top double-sided, fire-lined bar.
There is usually live music on Tuesday and Wednesday evening but the resort will also be doing Bourbon & Bonfires a special dinner and drinks event Aug. 15, 2018 that pairs Jack Daniel's and Woodford Reserve with gourmet bites by Executive Chef Yo Chang. This event does need a reservation (Eventbrite).
Marriott Lincolnshire Resort is at 10 Marriott Drive off Milwaukee Avenue south of IL Hwy 22, Lincolnshire. For more information call 847-634-0100 and visit Three Embers food.
Not all the Lincoln Park Zoo sights are found through the main gate. South of that gate is the historic Prairie-School-style Café Brauer (2021 North Stockton). Go around behind the landmark building to discover the Patio.
Here you can sip the Patio Muscle made up of Two Brothers Vodka, Chambord, ginger beer and lime or a refreshing glass of Villa Sandi Proseco while resting the eyes on a pond, boardwalk and the Chicago skyline.
Resolve your after-work food craving with crispy calamari or tomato mozzarella pizza twists.  
Reservations are suggested. Café Brauer is at 2021 N. Stockton, Chicago. For more information call (312) 507-9053 and visit The Patio.
A popular, fun trend among Chicago hotels is to open a roof-top bar. They offer good city views, interesting cocktails and are a place to meet after hours. However, one that takes on the sophisticated vibe of its globally-known hotel is the Z Bar that just opened at the Peninsula Chicago Hotel.
Go up to the sixth floor to settle comfortably with a view of Michigan Avenue. Then study the drinks menu with an eye for something special designed by Cocktails & Culture Director Vlad Novikov.
Whether you choose a classic cocktail or one inspired by Novikov's travels it will be an experience.
The same is true with the small-plates-food menu that includes the Daikon Frites with Chinese lap cheong, garlic and an unusual jam.
The Peninsula Chicago is at 108 E. Superior St., For more information call (312) 573-6888 and visit Z-bar.
A vacation that is not your same-old, same-old awaits 189 miles (about 3 hrs., 20 min.) northwest of Chicago.
It is Spring Green, WI where renowned architect Frank Lloyd Wright built Taliesin, his primary home and studio on his family's  800 acre estate on the Wisconsin River.
You can see his prairie-style home and the Visitor Center he designed from the road. Call 877-588-7900 or visit Taliesin tours to find out how to see the estate and make a reservation.
Down the road from Taliesin and about four miles south of Spring Green's shopping area is the American Players Theatre which attracts actors, directors and choreographers from TV, film and regional theatres who need some stage time to go back to what they really love.
They put on classic plays from late spring to early fall. For the season's schedule and tickets call 608-588-2361 and visit APT.
Spring Green is also home to The House on the Rock, a crazy-looking, built-into-a rocky-slope building. It contains an amazing collection of automated music machines and other stuff that fill three sections and needs three hours if doing the entire place. To find out more call 608-935-3639 and visit House on the Rock.
The town is surrounded by forests and farmland so visitors will be treated to true farm to table products that are not just a nod to today's popular menu phrases.
There are lots of good-eating places including the small café at the Spring Green General Store which is a destination experience in itself. Go for breakfast before shopping in the store for gifts and clothing or touring local sights or go for lunch between shopping at Arcadia Books and the town's galleries and boutiques.
For dinner try The Old Feed Mill, a restored 1857 stone mill with good food and views. 608-795-4909.
As to where to golf, swim and drop the bags consider The House on the Rock Resort.
Rooms at the resort overlook some great golf holes. The Springs Course's 18 holes were designed by Robert Trent Jones, Sr. and the North Nine designed by Roger Packard and Andy North, North Nine.
The resort features indoor pools including a lap pool and an outdoor pool.  For more information call 608-588-7000 and visit The House on the Rock.
The summer of 2018 is a great time to travel the Mother Road, or as songwriter Bobby Troup wrote in 1946, "Get Your Kicks on Route 66." The National Trust For Historic Preservation has a motorcade that, as Troup wrote, "winds from Chicago to LA, more than two thousand miles all the way."
The "Preserve Route 66" motorcade invites travelers to meet up at a variety of good Route 66 sights and destinations. The first segment is Chicago to Springfield that is the first week of July. The Missouri segment is July 6-10.
You can catch up with the group, join them at any date that suits your schedule or use their schedule of stops as a guide for your own trip. Their meetups are free and open to the public.
Since Springfield, IL is on the list, here are some recommendations of places to stay and things to do in the capital city of "The Land of Lincoln." St.Louis is next with where to stay, eat and go.
But first, if coming from Chicago, go downtown to where it supposedly begins. The route historically starts in Grant Park near Jackson boulevard, east of Michigan Avenue.
However, the sign for it can be found across Michigan Avenue opposite the front entrance to the Art Institute of Chicago. In Illinois I-55 (known in Chicago as the Stevenson Expressway)  basically follows historic Route 66. Illinois has posted Route 66 signs along the popular old road.  Tip: Chicago to Springfield is about 197 miles so plan on it taking about 3 ½ hours. Police do patrol the highway.
In Springfield
The city has enough fascinating Lincoln spots from the Lincoln Museum and his home, to the Old State Capitol building and the current Capitol building, to fill two days so look for a place to stay that makes it a fun vacation.
Where to stay – The Springfield Visitors and Convention Bureau is a great resource for places to stay, eat and see. If you like historic inns and B&B's consider The Inn at 835. An early 1900's former apartment house, the Inn is listed on the National Register of Historic Places. Two places close to the action are The President Abraham Lincoln Hotel and the State House Inn. Tip – Wear comfortable shoes and bring the sunscreen. This is a walking town.
An option for people who like a pool and sauna break after a day of sightseeing is to stay at the Crowne Plaza Hotel, a conference-style facility on the Dirksen Parkway at the edge of town near I-55.
Unpacked and ready to go – Springfield is about Lincoln, about state government, about historic homes and about Route 66.
Lincoln – Renew your acquaintance with the 16th President at the Abraham Lincoln Presidential Museum. You will be in for a remarkable two hours. Plan to spend at least that amount of time to see the movies and the exhibits that peel away the myths from the man and the times.
While downtown Springfield, walk over to the Lincoln-Herndon Law Office, where he worked above Seth Tinsley's dry goods store, and to the Old Capitol across the road where he served as a representative and gave his "house divided" speech. Also visit his and Mary Todd Lincoln's home.
Then drive north of downtown to the Lincoln Tomb where he, his wife and three of their four children are buried. If time allows, drive north 20 minutes on IL Hwy 97 to New Salem, a wonderful village recreated with the timbered homes and stores that existed when a young Abe Lincoln worked there.
State government – Tour the Old Capitol, Illinois' fifth statehouse (but first in Springfield) to see where bills were debated and state laws passed from 1839 to 1876. The building was reconstructed in the 1960's. The impressive dome of the State Capitol, 361 feet above ground can be seen from miles away. But go inside to see where legislation has been argued and passed from 1888 to today in the House and Senate chambers on the third floor.
Historic homes – Unless you are a Frank Lloyd Wright maven you might not know that one of the best examples of his work is the Dana Thomas House in Springfield. It still has all of its original art glass and much of its original furnishings.
Also put the Vachel Lindsay Home on the itinerary. Built in the late 1840's, the house was home to Mary Todd Lincoln's sister Ann. Vachel Lindsay's parents bought the house in 1878. It was the poet's home until his death in 1931.
Route 66 –  Visitors can go back in time by taking in a double feature at the Route 66 Drive In or stop for a bite at the Cozy Dog Drive In, where the family still makes the famed "hot dog on a stick" that they have been serving up since 1946. Another must stop is the Moterheads Bar, Grill and Museum. Rte 66 places are included in Things To Do/Attractions.
However, car enthusiasts really into what is the Mother Road of historic routes come for the town's annual International Route 66 Mother Road Festival in September. This year's festival is Sept. 21-23. That is when hundreds of vintage vehicles from street rods to motorcycles will roll into town and live music fills Springfield's downtown streets.
For more information Springfield Convention & Visitors Bureau. Also visit Illinois Route 66 Scenic Byways.
Have fun!
Jodie Jacobs