Archive for the 'Travel' Category
You don't have to drive across country to find gorgeous tangerine and magenta vistas. Four easy-to-get-to Midwestern areas, Galena, IL, Geneva and Door County, WI and Bloomington/Brown County, IN, put on a color show that attract leaf-peepers as September merges into October. Sure there is good color throughout the region but these areas also have fun shops and good accommodation choices. You do need to make your reservation now, however, because they are not a secret. Best plan is to go during the week to avoid the crowds.
Tucked into the northwest corner of Illinois at the Mississippi River, the town of Galena ripples down hilly streets and scenic roads. About a three hour drive northwest of Chicago, its hilly terrain is vastly different from Illinois' Lake Michigan and prairie landscape. Leave time to  explore the Galena Territory where every road turn and over every hill there is another photo op and color-filled vista.
Shopping the town's main street is delicious because there are wine-tasting places and yummy ice cream and candy shops. Check with your accommodations host for restaurants that have your favorite cuisine.
There are lots of good B&Bs in town and even a historic hotel. Or if looking for expansive color vistas consider Eagle Ridge Resort and Spa. Only 6 minutes from the village's downtown in the Galena Territory, it has lots of room choices so is perfect for a family or girls getaway. Eagle Ridge also has horseback riding, hiking and biking trails and balloon tours.
Nearby, are a stage coach trail, fort and the scenic vistas of Galena's Jo Davies County. There is usually a balloon, wine or other festival taking place in the area so with all the outdoor recreation and activities around you probably won't need a book to fill slack time.
Do like Chicago's upper crust used to do. Drive up to Lake Geneva across the Illinois border into Wisconsin. The town is still filled with estates but also has B&Bs and resorts. About 1 ½ hours north of Chicago, Lake Geneva has been a vacation destination since the 1800s.
Visitors can hear about the estates that border Geneva Lake. The lake here is called Geneva Lake but the town reverses that by calling itself Lake Geneva. Take a boat ride that also delivers the mail pier-side or an evening sunset cruise to hear about the estates or celebrate fall with a glass of wine.  The boat excursions are a good way to see some of the grand houses and resorts around the lake away from Lake Geneva. Motor boat rentals are also available.
To get away from the crowd after cruising shops and the lake and to see even more good color vistas, check the Grand Geneva for dinner or accommodations. It is just outside of town and the spa is a destination by itself.
About four hours north of Chicago, the fun and scenic vacation destination of Door County is on a peninsula that pokes like a finger into the waters east of  the City of Green Bay. One side of The Door edges the watery way called Green Bay. The other side is lapped by the waves of Lake Michigan.
Bring a bike or rent one. Even though there are no traffic lights once past Sturgeon Bay where a canal allows boat traffic to cross, the car and pedestrian traffic of fall-color aficionados make moving from cute town to quaint town and good shops and restaurants to harbors and forest roads a bit slow on the Green Bay side. Driving the forests on the Lake Michigan side or crossing the peninsula between farms and fields is easier and just as colorful.
Bike or hike Peninsula State Park on Green Bay between Fish Creek and Ephraim. Go camera or smart phone ready to snap a ton of photos to download to Facebook or Instagram. To  try whitefish done the Door County way reserve a spot at a restaurant's fish boil. Tip: check for the annual fall color festival then try to go the week before or after it for better chance at accommodations and restaurant reservations.
About three hours south of Chicago, Brown County's boutique and arts-filled Nashville (no not TN) and Brown County State Park have arguably been a prime peeper destination long before other regional areas publicized their fall colors.
Possibly, it was because in neighboring Bloomington, which adds golds and oranges to its usual red and white colors, Indiana University students and their parents knew about Brown County's fall transformation. But you don't have to go to a football game here or take a class to become immersed in the area's amazing fall kaleidoscope of color.
A good selection of accommodations can be found in Bloomington and Nashville. Tip: Look up IU's football schedule so you don't go that weekend. Better yet, go during the week anyway.
Jodie Jacobs
The itch to getaway to a colorful scenic vista is upon us. The weather is showing signs of fall with warm days and cool nights and some trees in the neighborhood are beginning to show tinges of gold and orange. But before you throw a suitcase in the car and drive off there are a few tips that could up the fall color experience.
1.Don't use your neighborhood color changes as the definitive guide. Colors in states or area of your state to the north and west may be in full fall color palette or just beginning to change south or east. In the US check fall foliage map or weather map for where the foliage is turning. Some states have color reports. Among the best in the Midwest is Wisconsin.
2.Make accommodation reservations ahead of time. You're not alone when looking for a fall destination but to avoid bumper-to bumper traffic go during the week, not om the weekend.
3. Take advantage of local Visitors Bureaus to find the best place for what you want. . As an example, Door County in northeastern Wisconsin, and Traverse City in northern Michigan (below the Upper Peninsula) and Brown County (Bloomington and Nashville) in central Indiana keep tabs on what is available and know price points and type. The visitors centers' websites also show where pets are welcome. Also stop at the Visitors Center for a map, brochures and suggestions because GPS will work some places but not all.
4. Because you are driving, not flying, throw those extra boots, hiking shoes, jackets, sun protector hats and sprays, water bottles, first-aid kits and backpacks into the car. Don't be afraid to bring your own pillow for a good night's sleep.
5. Don't forget chargers for phones, ipads, cameras or whatever other electronics you take everywhere. Also check your accommodations before you leave, they already have enough chargers from previous visitors.
Enjoy!
Jodie Jacobs
Don't bother calling NASA or the local police if you see a fireball during pre-dawn hours this weekend through Monday.
The Perseid meteors are already zooming across the sky but they peak after midnight from August 12 to 13.
This year, 2018, the meteors should be easily seen because the moon is in its new phase Aug. 11, and only a mere waxing crescent Aug. 12 and 13 (Sunday-Monday) which means its illumination is too low to interfere with shining meteors streaking overhead.
However, to best spot them, seek out areas away from street and commercial lights, oh, and be patient. There should be 60 to 70 meteors flying overhead per hour.
The Perseids are pieces from the Comet Swift-Tuttle that we can view when the earth passes through its path. Although it does so mid-summer from July 17 to Aug. 24, the densest pass-through is Aug. 12.
As to fireballs, NASA experts say the Perseids have more than other big meteor showers.  For more NASA meteor information visit NASA Perseids.
Another good meteor information site is Earthsky.
Happy watching
Jodie Jacobs
Given a list of cities and landmarks it's a no brainer to draw a line from Gateway Arch to St. Louis. But how about where to find one of the wackiest museum you are ever likely to encounter? Or how about a cathedral whose interior is covered with 41.5 million pieces of glass? The lines still go to St. Louis, MO, a fun-to-visit town just a short flight from Chicago, a half-day train ride or about a six hour drive.
The Arch
Certainly, if you have never been to St. Louis then definitely visit the city's 630-foot high landmark Arch. It represents the gateway to the West. Don't worry if you don't take a decent photo through its weather-beaten windows at the top, but you will find that riding up there via a tram-car-enclosure is an experience.
Now, the summer or fall of 2018 is a good time to visit the Gateway Arch and its museum about westward expansion at the base. After being closed for the past few years, the museum just reopened July, 3, following a multi-million dollar renovation that also included the grounds. The newly done museum still takes visitors back in time but does so with even more life-sized figures, relics, old building replicas and dioramas of Native Americans, explorers, St. Louis scenes and pioneers. The Gateway Arch and Museum is at 11 N. 4th St., St. Louis, (877) 982-1410.
The strangely named City Museum
The museum's name, sounds ordinary. But as you approach the City Museum you can see from the planes hanging on the outside and the bus dangling over the roof or the Ferris wheel on top of the building that the name doesn't begin to tell its story.
Once the International Shoe Company, the building has been re-purposed the same as the recycled objects inside have been into a Disneyland-style fun house. Supposedly geared primarily to youngsters, it is just as entertainingly enticing to adults.
There are circus acts, tunnels, an aquarium and architectural leftovers. But there is also a 10-story slide and an organ that plays scary "Phantom of the Opera" notes. The City Museum is at 750 N. 16th St., St. Louis,  (314) 231-2489
A St. Louis landmark to appreciate while sipping beer
See more St. Louis landmarks over on the Anheuser-Busch Complex. Three of the 137 structures there, the Administration built as Lyon School in 1868, the Circular Stable (think Clydesdales) dating from 1885 and the Brewhouse built in 1891, are on the National Register of Historic places.
But the sign on the complex says Budweiser so you also know this is a place to tour then finish off the stroll with a tasting in the Biergarten. Even if beer isn't the drink you usually order, it's a good idea to know what all the craft-beer-places are talking about when they discuss their IPA, ales vs. lagers, and beer ingredients. The complex's visitor center is at 12th and Lynch St. For more information visit Budweiser tours (314) 577-2626
A street that loves mid-last century styles
As with Chicago, St. Louis is a city of neighborhoods. But one of those areas, The Loop, has a funky street that will have you thinking you stepped back into the 1950s.
It's Delmar Blvd., a road where a trolley that used to "loop" around, clangs down the center of the street, where the Moonrise Hotel has 1950s furnishings inside and a revolving moon on its roof, where Fitz's serves up wonderful root beer floats and where the Blueberry Hill Restaurant & Music Club celebrates rock 'n' roll legend Chuck Berry with photos, a juke box, collectible paraphernalia and live music.
As if the moon might feel lonely in the Delmar firmament, Jupiter is also on hand. Look for it on the Delmar Planet Walk.
There is also another walk. Its where you can see if you know all the famous people, such as Yogi Berra, Robert Duvall, T.S. Eliot, Marsha Mason, Sara Teasdale  and Tina Turner, who were either born or lived some time in St. Louis. It's the St. Louis Walk of Fame and of course Chuck Berry has a star on the walk.
The Blueberry Hill Restaurant & Music Club is at 6504 Delmar Blvd, St. Louis, (314) 727-4444.
A cathedral that really is a work of art
It's not possible to keep from saying OMG when entering the Cathedral Basilica of Saint Louis, also called the New Cathedral. The inside is a work of art that took from 1912 to 1988 to complete because 41.5 million glass tessarae pieces were installed. Considered the world's largest mosaic collection outside of Russia, it includes the Tiffany designed mosaics on the sanctuary walls and inside chapels and August Oetke-designed mosaics in the main cathedral areas.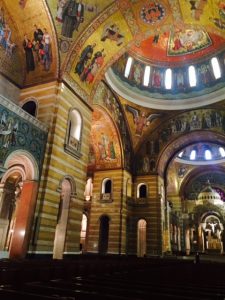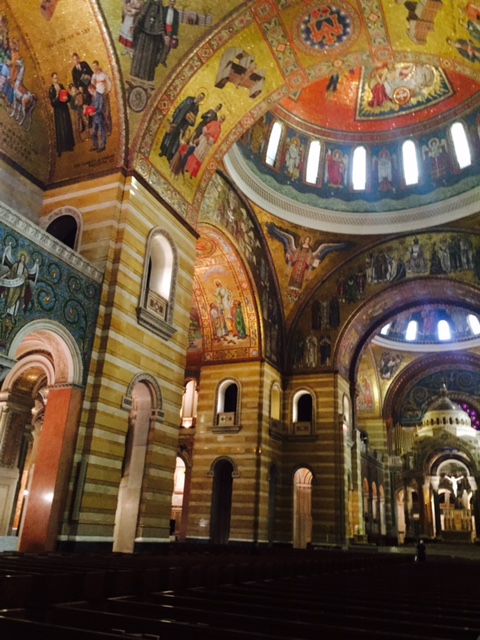 Cathedral Basilica of Saint Louis (New Cathedral) is on Lindell Blvd. at Newstead Ave. St. Louis, MO 63108  (314) 373-8241
For more St. Louis places and information see Explore St. Louis.
Jodie Jacobs